Red River revival with Herman, Riley can turn around Big 12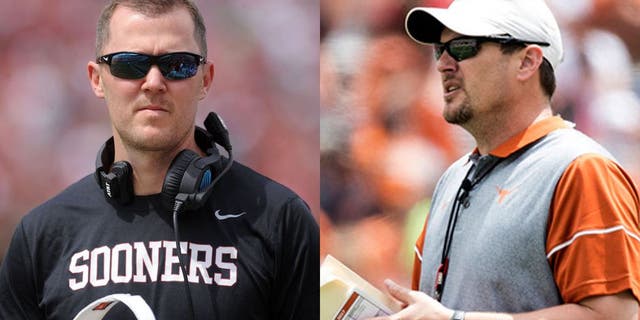 NEWYou can now listen to Fox News articles!
For the sake of the Big 12, Lincoln Riley and Tom Herman better live up to the hype.
Following a season in which Big 12 football bottomed out, and with speculation about the long-term viability of the conference a constant talking point, its flagship programs are now both in transition.
Herman took over at Texas late last year, replacing Charlie Strong after spending just two seasons as a major-college head coach. Then, on Wednesday at Oklahoma, there was an offseason shocker: Sooners coach Bob Stoops announced his retirement after 18 seasons and the 33-year-old Riley became the youngest head coach in the FBS. For the first time since 1947, both Texas and Oklahoma have new coaches.
"I feel prepared," Riley said.
He better be. The Big 12 needs Riley and Herman to Make the Red River Rivalry Great Again.
From 2000-09, with Stoops leading Oklahoma and Mack Brown at Texas, the Sooners and Longhorns' annual meeting at the state fair in Dallas was the most consequential rivalry in college football. Texas and Oklahoma won every Big 12 title during that time and combined for six appearances in the BCS championship game. Since 2010, no Big 12 team has been one victory away from winning a national title.
A conference is only as strong as its strongest members. With Michigan and Penn State back, so is the Big Ten. Recent national titles by Florida State and Clemson have restored the reputation of Atlantic Coast Conference football.
In the Big 12, Oklahoma and Texas have the highest ceilings. They have combined for 11 national titles in college football's poll era (1936-present). The rest of the Big 12 schools have one (TCU in 1938).
For the Big 12 to shed the label of weakest Power Five conference -- a label it secured last season -- the Sooners and Longhorns need to be maxing out.
While the conference is rolling in record-breaking revenue , the product on the football field has slipped badly.
The Big 12 has been left out of two of the first three College Football Playoffs, and the one time it did reach the national semifinals, in 2015, the Sooners were routed by Clemson.
Last season, the Big 12 had the worst record against FBS nonconference opponents (16-12) among the Power Five . Though to be fair, at 7-8, the Big 12 had a better record against Power Five opponents, including Notre Dame and BYU, than the Southeastern Conference (11-14).
Then NFL draft day rolled around and it was yet another poor showing by the Big 12. The conference saw 14 of its players drafted, one fewer than the American Athletic Conference and three more than the Mid-American Conference.
"We've had years when we've had a lot. We've had years when we haven't had many. I guess it's not astonishing," Big 12 Commissioner Bob Bowlsby told reporters during last month's conference spring meetings in Phoenix.
The Big 12 has been trending in the wrong direction since conference realignment stripped it of Texas A&M, Nebraska, Missouri and Colorado. The SEC is claiming more recruits from the state of Texas than ever before, draining the Big 12's primary talent pool.
"Everybody comes into Texas," Bowlsby said. "There are going to be people that leave. We need to be better at keeping the best ones home."
The Big 12's biggest problem has been dysfunction in Austin, where the Brown era ended with a thud in 2013. Strong was not up to fixing the problems and was let go after three losing seasons. Enter Herman, the former Texas grad assistant, Urban Meyer protege and -- briefly -- Houston coach. At once hip and hard-nosed, the 42-year-old Herman has been billed as college football's next great coach.
Thanks to Stoops, the Sooners have done a much better job of holding up their side of the Red River Rivalry. To alter the course of a program he could see was slipping, Stoops overhauled his coaching staff after an 8-5 2014 season with Riley as the centerpiece. In two seasons with Riley as offensive coordinator, Oklahoma is 22-2 overall and 17-1 in the Big 12.
"The right guy is right here, right now," Stoops said Wednesday.
Neither the Sooners nor the Big 12 can afford Stoops to be wrong on Riley.
All that money is not necessarily buying happiness in the Big 12. It has publicly and awkwardly pondered expansion , and Oklahoma President David Boren cannot resist feeding Sooners fans dreams of a future in the Big Ten or SEC. It is fair to wonder if when the Big 12's billion-dollar TV deal expires in 2025, the Big 12 will, too. How this plays out is impossible to predict, but this much is certain: Big 12 football cannot thrive without Oklahoma and Texas thriving. And for that to happen, Herman and Riley need to deliver on their star potential.
-- --
Follow Ralph D. Russo at www.Twitter.com/ralphDrussoAP