Recovery road: Rams C Barnes earns game ball for pouncing on fumbles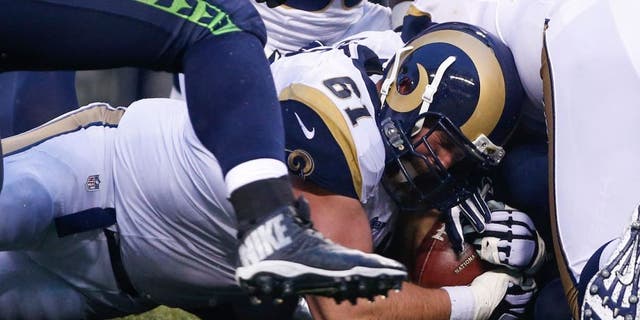 The St. Louis Rams were held to a season-low 207 yards in Sunday's 23-17 upset win at the Seattle Seahawks.
The offensive struggles were not the reason, though, why coach Jeff Fisher presented a game ball to a most unlikely player - center Tim Barnes - as the Rams extended their winning streak to three games and completed a season sweep of Seattle.
A pair of hustle plays by Barnes kept alive a decisive scoring drive by the Rams as he pounced on a pair of fumbles to pave the way for Todd Gurley's 2-yard touchdown run early in the fourth quarter.
"What can you say about Tim Barnes? That's great effort, great effort," St. Louis coach Jeff Fisher said in his postgame press conference. "You never want to see the balls on the ground but we got some bounces and Tim made two big plays."
The Rams had seen a 16-0 lead whittled to 16-10 and were facing a third-and-one at Seattle's 40-yard line when running back Benny Cunningham fumbled. Barnes managed to come out of the pile with the ball, giving St. Louis a first down.
Two plays later, Gurley broke loose for a 20-yard run but he fumbled after hurdling Seahawks safety Earl Thomas. Barnes lumbered 27 yards downfield to corral the loose ball at the 2-yard line.
"Right after that second one, I wanted to go out there and give him a big kiss," Rams linebacker James Laurinaitis said. "Hard work and effort like that pays off. It's phenomenal."
Gurley went up the middle for the touchdown three plays later, extending the margin to 23-10 with just over 10 1/2 minutes to play.
"Just got to follow the ball," Barnes said. "That's what we try and do every play. That's what we do as an O-line, we try to chase the ball and keep our guys from getting hit downfield and if something does happen like that we want to try and be there."