Recent Troubles Forgotten, Mexico And Oribe Peralta Deliver 1-0 Victory Over Cameroon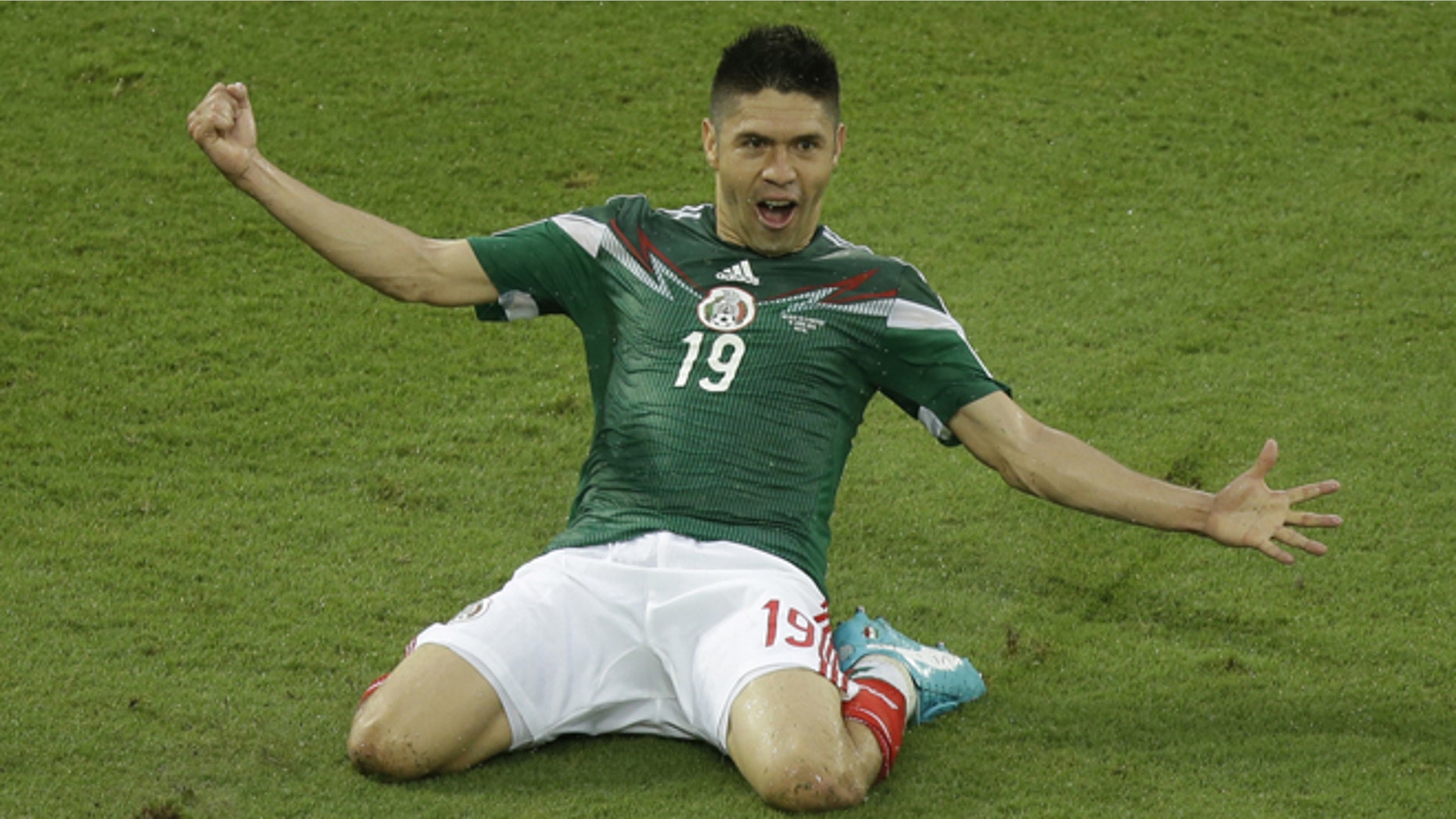 Normally a 1-0 final score indicates a taught, defensive game.
In the case of the World Cup match between Mexico and Cameroon on Friday, however, there were plenty of offensive fireworks, despite the torrential downpour. It's just that most of them ended up not counting.
Officially, the only goal of the match was scored by Oribe Peralta in the 61st minute, but three other apparent – two of them by Mexico's Giovani dos Santos, the other by Cameroon's Samuel Eto'o – were called back. One of dos Santos' strikes was ruled offside despite replays showing that no infraction occurred.
The victory was Mexico's first win ever over an African team at the World Cup and justified coach Miguel Herrera's decision to start Peralta ahead of Manchester United striker Javier "Chicharito" Hernández, arguably the country's best known player.
The 30-year-old striker for América in the Liga MX broke the deadlock just as Mexican fans began cheering for Hernández to come into the game, swooping in with his left foot after Cameroon goalkeeper Charles Itandje parried Giovanni dos Santos' attempt from the edge of the area.
"We could have scored more, but unfortunately we're not used to these conditions," Herrera said. "Frankly, the refereeing took away two clear goals, but at the end of the day you've got to work for it, and we get to the next match with three points and very high spirits."
Tournament host and favorite Brazil leads the group after a 3-1 win over Croatia in the opening game.
While the heat was expected to be an issue in this balmy coastal city, rain soaked the field starting about four hours before the match and never let up, creating a cool day but a slick surface. The conditions didn't dampen the spirits of thousands of Mexico fans, who dominated the crowd and kept up boisterous chants and taunts throughout the match.
Cameroon seldom tested Mexico goalkeeper Guillermo Ochoa, but forced him to make a victory-clinching save when he dived to his left to stop an header by Benjamin Moukandjo.
The save was yet another big payoff for Herrera, who started Ochoa after the keeper had been a reserve at the last two World Cups.
At the final whistle, Herrera kneeled, crossed himself and pumped his right fist. Cameroon coach Volker Finke stood with his arms crossed, scowling as the rain dripped off his face.
For the Cameroon players, the match was a chance to put behind them a bonus pay dispute that created so much turmoil back home and delayed their arrival in Brazil. But the loss and lackluster performance will only magnify the perception that the Indomitable Lions are a fractured team.
Follow us on twitter.com/foxnewslatino
Like us at facebook.com/foxnewslatino