Ray Rice Should Be 'Suspended For Life From The NFL,' According To Sen. Marco Rubio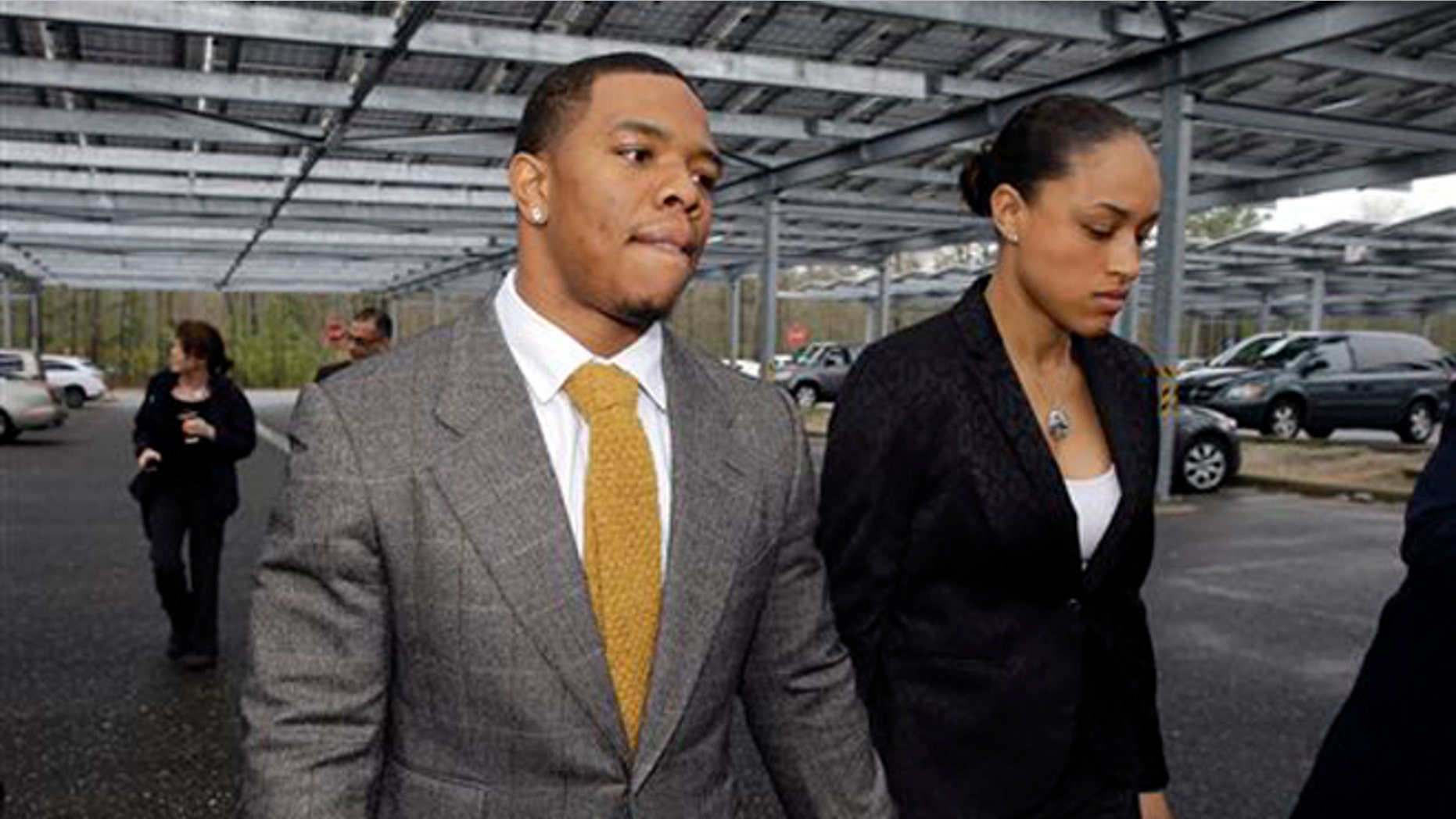 Ray Rice is not getting much sympathy from – well, anybody – after a video released Monday showed him brutally punching his then-fiancee, now-wife Janay Palmer in an elevator.
Florida Sen. Marco Rubio expressed outrage over the three-time Pro Bowl running back's behavior, saying he should be "suspended for life from the NFL."
"It was an outrageous act that he did, and I think he even lied about it," Rubio told a TMZ cameraman on Monday. "He should be suspended for life. There is no place for someone like that in the National Football League."
The Republican Senator added that the NFL should have a zero tolerance for these sorts of things, and that while Rice has every right to work and make a living, playing in the NFL is a privilege.
"I think you lose that privilege when you do something like that," Rubio said.
After the release of the grainy TMZ Sports clip that hit the Internet Monday, the Baltimore Ravens cut the player and the league suspended him indefinitely.
A longer video - shown by law enforcement to the Associated Press - reportedly features Rice and Palmer shouting obscenities and hitting each other. She appears to spit in his face before he throws the punch that knocks her head into a handrail on the wall of the elevator.
According to the New York Daily News, Palmer spoke out in an Instagram post Tuesday, calling out the media and the public in this "horrible nightmare."
"To make us relive a moment in our lives that we regret every day is a horrible thing. To take something away from the man I love that he has worked his ass off for all his life just to gain ratings is horrific," she wrote. "THIS IS OUR LIFE! What don't you all get. If your intentions were to hurt us, embarrass us, make us feel alone, take all happiness away, you've succeeded on so many levels. Just know we will continue to grow & show the world what real love is! Ravensnation, we love you!"
Months ago, TMZ posted a video from February that showed Rice dragging Palmer, now his wife, from the elevator at the Revel casino in Atlantic City, New Jersey.
Rice was originally suspended for two games, and coaches and others had praised his behavior since his arrest for striking Palmer.
He was charged with felony aggravated assault, but in May he was accepted into a pretrial intervention program that allowed him to avoid jail time and could lead to the charge being purged from his record.
Rice said in a news conference this summer that his actions that night were "inexcusable." The Ravens never took action against him until after the second video was released this week.
Coach John Harbaugh said he met with Ravens owner Steve Bisciotti, team president Dick Cass and general manager Ozzie Newsome after they saw the TMZ video, and they made the decision to let Rice go.
"It's something we saw for the first time today, all of us," Harbaugh said. "It changed things, of course. It made things a little bit different."
Commissioner Roger Goodell announced that, based on the new video evidence, Rice had been suspended from the league indefinitely.
"We requested from law enforcement any and all information about the incident, including the video from inside the elevator," NFL spokesman Greg Aiello said Monday morning. "That video was not made available to us, and no one in our office has seen it until today."
These were moves that were praised by many, including fourteen-time Pro Bowl tight end Tony Gonzalez.
Gonzalez, who retired from the Atlanta Falcons after last season, tweeted on Monday, "Absolutely disgusted with the tape I saw of Ray Rice and his then fiancee. The Ravens did the right thing by cutting him."
In the longer video, Rice made no attempts to cover up the incident, dragging Palmer out the elevator where he is approached by hotel staff. One of them is heard saying, "She's drunk, right?" And then, "No cops." Rice didn't respond to the questions.
Rice leaves the Ravens as the second-leading rusher in franchise history, behind only Jamal Lewis. A three-time Pro Bowl selection, Rice is the team's career leader in total yards from scrimmage (9,214) and is the only player in Ravens history to rush for 1,000 yards in four consecutive seasons.
But those are mere numbers, and his actions in that elevator shed a new light on him.
"I'm not going to go into what he told us or anything or if it matches or if it doesn't," Ravens receiver Torrey Smith said. "That doesn't matter. What matters is what you see. It wasn't a pleasant sight at all."
Rice hasn't spoken often to the media since his arrest, but on July 31 he said this is "something I have to live with the rest of my life."
He added, "I know that's not who I am as a man ... I let so many people down because of 30 seconds of my life that I know I can't take back."
The Associated Press contributed to this report.
Follow us on twitter.com/foxnewslatino
Like us at facebook.com/foxnewslatino