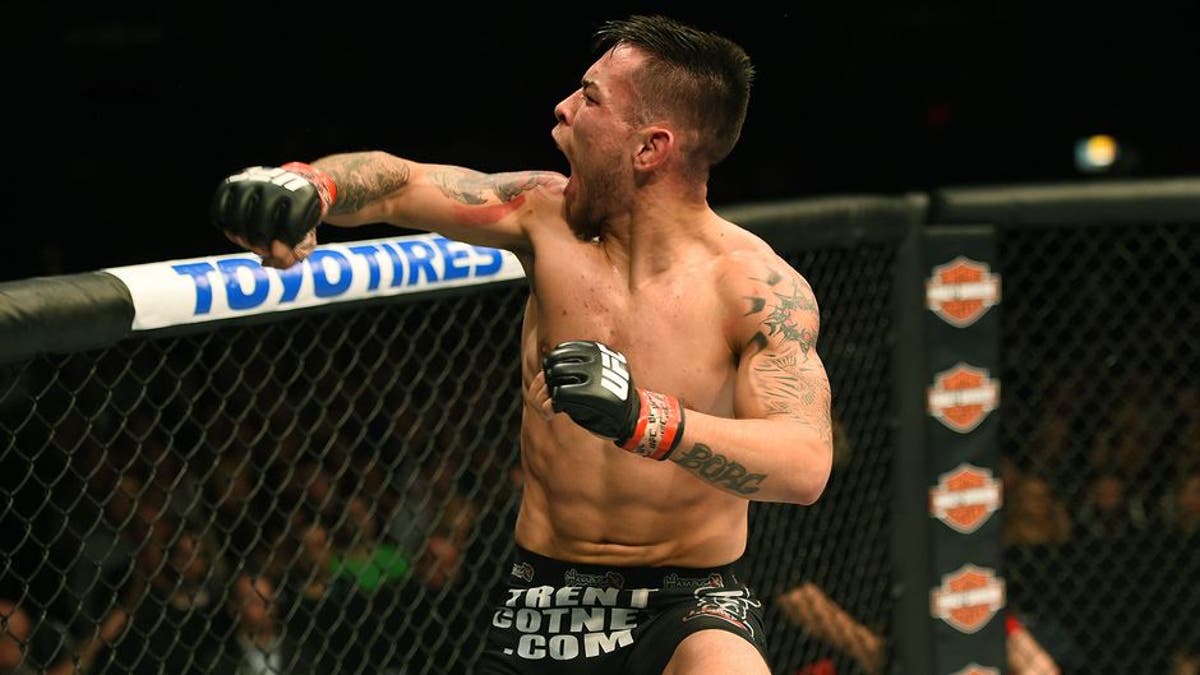 Back in 2013, an undefeated upstart named Chris Weidman said he would be the man to finally bring an end to Anderson Silva's unprecedented win streak where he demolished every middleweight contender thrown in his path.
At the time, Weidman was 9-0 in his career with five fights in the UFC and while he seemed like a good prospect, it still seemed like a mighty big mountain to climb to topple arguably the greatest champion in UFC history.
Still, Weidman spoke with such conviction and confidence in his voice that it was impossible not to at least believe that he believed he could defeat Silva once they stepped into the Octagon together.
It took Weidman less than two rounds to prove his point when he knocked out Silva to win the middleweight title, bringing an end to his 10 consecutive title defenses a record that he held alone until just recently.
Demetrious Johnson tied Silva's record with his most recent win as he has now defended his flyweight title on 10 straight occasions, but just like Weidman felt that he was the person destined to bring down the Brazilian, there's a flyweight on the roster who believes he can do the same thing.
Top three ranked flyweight Ray Borg has been champing at the bit to get a shot at Johnson not only because he wants a shot at the title, but because just like Weidman, he's got the confidence that he's ready to tackle one of the greatest champions in UFC history.
Now Borg isn't the first fighter at 125 pounds to say they will be the person to finally stop Johnson's historic title reign, but he's happy to state his case on what separates him from everybody else.
At just 23 years of age, Borg has youth on his side but more importantly he feels like he's got the weapons in his arsenal to counter what Johnson has used to dominate so many of his past opponents. Add to that, Borg began working with new coaches last year at the Jackson-Winkeljohn academy in New Mexico and that's the same team that has produced a laundry list of UFC champions including Jon Jones, Georges St-Pierre and Holly Holm.
"No disrespect to anyone else who's fought him, but no one else wants this [expletive] the way I want it. He's never quite fought the style of fighter like me. I'll still say to this day the closest one was maybe Tim Elliott but even Tim Elliott doesn't possess the speed I have. People haven't seen it yet but I've got some power in these little hands of mine," Borg said.
"I feel like D.J. hasn't fought anybody like me and I match up well with him stylistically."
As much as Borg believes he's ready to not only face Johnson for the title but to snatch it away from him, he also knows this sport is not about one fight but instead a career built on stability.
That's why Borg not only wants to beat Johnson, but he'd be willing to do it again and then face anybody and everybody who wants to come at him in the flyweight division because winning the belt would be great.
Holding onto the title for years to come would be even better.
"Not only am I going to be the Chris Weidman but I'll be a little bit better than Chris Weidman. If I get that belt, I'm going to keep that belt as long as I possibly can and as long as my body holds up," Borg said. "I know it's easier said than done but I have the work ethic and I have the drive to do so.
"They give me D.J., it's a quicker payday and capture that title. So why not be the dark horse to take that title away?"