Ravens WR Steve Smith: 'I don't know when I'm coming back'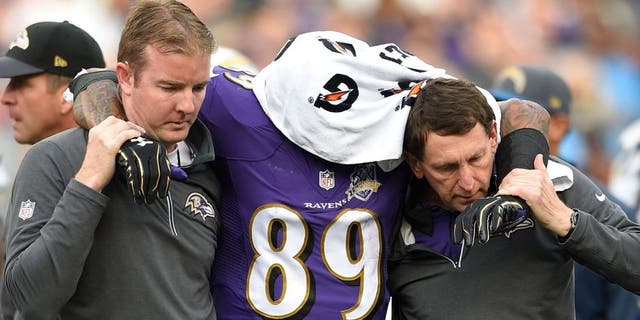 NEWYou can now listen to Fox News articles!
Steve Smith was in the midst of yet another outstanding season for the Baltimore Ravens last season before tearing his Achilles in Week 8. Through seven games, he had 46 receptions for 670 yards and three touchdowns, which put him on pace for more than 1,200 yards. The injury was huge for not just the Ravens, but for his career, too.
Fortunately, following the injury, Smith announced that he would be coming back for another season in 2016. But on Sunday, he revealed that he's not sure when exactly his return will be.
"I don't know when I'm coming back," Smith said via ESPN. "I just know I have to be able to do something in training camp to be able to play for the season. That's just the way I operate. I can't go from doing absolutely nothing, sitting on my butt for all of training camp, and then go out there and play."
This is particularly noteworthy because of the fact that another Ravens receivers, Breshaud Perriman, could miss the entire season yet again due to a partially torn ACL. If Smith is unable to return in time for the start of the season, which is certainly a possibility, the Ravens could be in trouble as far as wide receivers go.
Regardless of what's going on with the rest of the team, though, Smith is going to take his time in recovering from his torn Achilles.
"I'm just taking it one day at a time, allowing my injury to heal and strengthen myself," Smith said. "I'm trying to be methodical and patient, which I'm not any of those. So it's been good. It gives me a different perspective."