Ravens' Harbaugh backtracks on declaring Steve Smith 'out'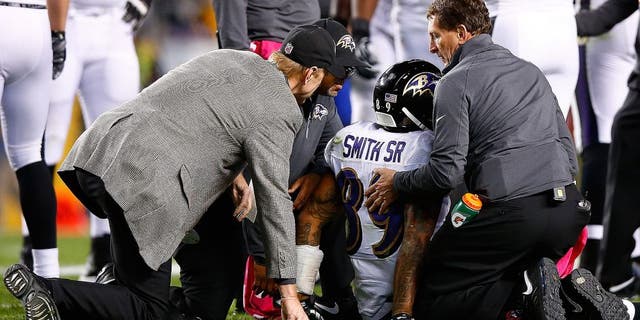 NEWYou can now listen to Fox News articles!
Last Saturday on the sideline during his brother's Michigan-Maryland game, Ravens coach John Harbaugh said Steve Smith Sr. would miss the team's Week 5 game against Cleveland.
Harbaugh sang a different tune during his Monday press conference, saying nothing is official on Smith just yet.
"He's week-to-week," Harbaugh said via the team's official website. "The injury report rules people out. I've got my own thoughts on it, as I've stated, but I'm just telling you there's a process."
Smith is dealing with microfractures in his back from a hit by Steelers linebacker Lawrence Timmons last Thursday night. His ability to play will be determined by how much pain he can play through, Harbaugh said.
"Knowing Steve, he'll want to be out there," Harbaugh added. "He probably has one of the all-time high pain tolerances that you'll ever see. He's in the Hall of Fame of Pain Tolerance. That's what our doctors told me, so that's quite a compliment."
Video courtesy of CSN Mid-Atlantic:
Your browser does not support iframes.