Ravens' Forsett scores, leaves game with ankle injury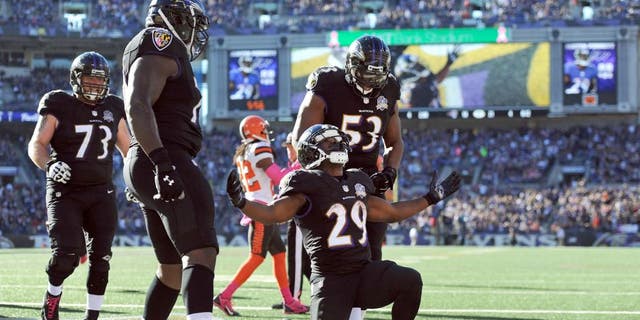 NEWYou can now listen to Fox News articles!
Ravens running back Justin Forsett scored his first touchdown of the season, but he didn't get that much time to enjoy it.
Forsett, who proved to be Joe Flacco's best offensive weapon in Sunday's 33-30 overtime loss to the Browns, left the game late in the fourth quarter at the end of a 10-yard run with an ankle injury. He was able to walk off under his own power, but his day was over. Forsett wanted to get back on the field in overtime, but he said he risked making the ankle worse by playing.
"It's tough. You know you want to be out there, help your team win," Forsett said. "Can't do any help on the sideline."
Forsett took it to the Browns during the possession preceding his injury, accounting for 39 of Baltimore's 43 yards as the Ravens went ahead 27-22. Forsett scored off left tackle for a 1-yard score.
He finished with 121 yards on 21 carries to go with four catches for 49 yards. Forsett said his ankle still needs to be evaluated by the team's medical staff to see the extent of the damage.