Rangers try to avoid history tonight against Sale, Red Sox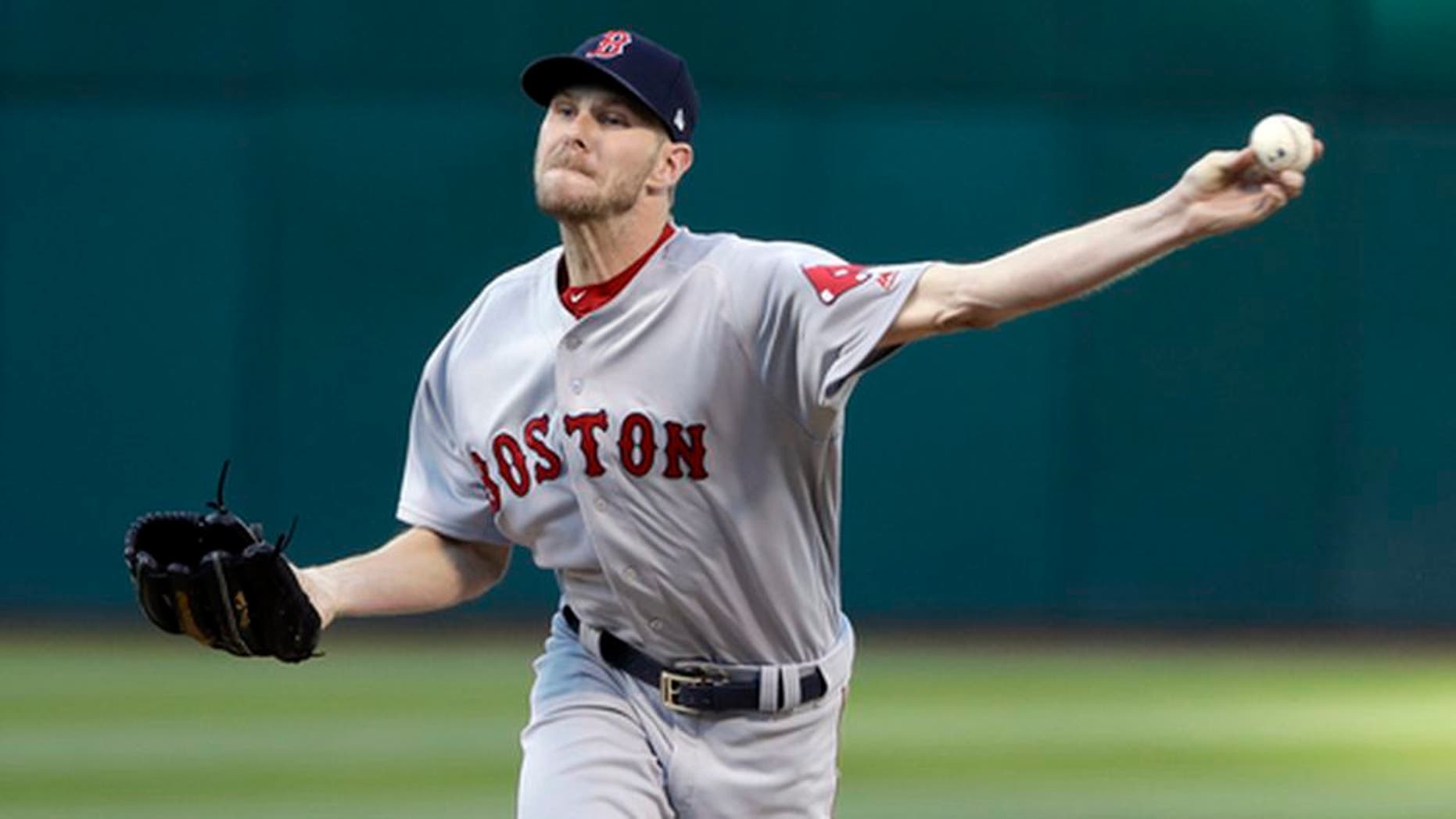 BOSTON -- The Boston Red Sox, who scored 23 runs in their past two games after threatening to fall below .500, have their ace facing the Texas Rangers in the second game of a three-game series Wednesday night.
"We've got Chris Sale going tomorrow, and that's another boost for momentum to sustain it in our favor," Boston manager John Farrell said Tuesday after the Red Sox's 11-6 victory over the Rangers. "He's been outstanding.
"Whether we do (it) against (Texas starter Martin) Perez tomorrow, we'll find out, but I think that we were able to take the lead and maintain it and it allowed some guys to just go up and relax and take their quality at-bats -- and there were a number of them here tonight."
Texas (24-22) had more hits than Boston (23-21) in the series opener, 13-12, but Boston pitchers didn't issue a walk while Rangers pitchers gave away eight free passes.
The Rangers will hope for improved control from Perez (2-5, 3.71 ERA), though hasn't fared well in four career outings against Boston, two of them at Fenway Park. However, he has, like Sale, pitched well in May.
Sale (4-2, 2.19 ERA) hasn't lost since April 27, going 3-0 with a no-decision in four May starts, striking out 43 in 28 innings. He has run his streak of consecutive games striking out at least 10 batters to eight straight -- tying the modern record he already shared with former Boston ace Pedro Martinez.
"I'd rather be 8-0 with no punchouts, honestly," Sale, talking about his streak, said after getting a no-decision in Oakland last Friday night. "Peripheral stats don't matter in this game. I know people love to crunch numbers and talk about this and that. They're flashy, they're cool, but at the end of the day, they don't matter. They really don't. Other than your win-loss record for your team, every other stat doesn't matter."
A victim of non-support all season, Sale, acquired by the Red Sox from the White Sox during the offseason in a mega deal that sent super prospects Yoan Moncada and Michael Kopech to Chicago, is third in the American League in ERA.
His major-league-leading 95 strikeouts trail only Randy Johnson (98 for Houston in 1998) for the most ever by a pitcher in his first nine starts with a team.
"This is a group I think that can find a way to put some runs on the board (against Sale)," Texas manager Jeff Banister said after the Tuesday game. "We just need to get back out there, forget about tonight and move on.
"It's something that these guys have been able to do very well. (We'll) see if we can't mount some kind of charge tomorrow night."
Perez is coming off a strong seven-inning outing that capped his team's 8-0 homestand -- going seven innings and allowing two runs, walking none and striking out eight in a Thursday win over the Philadelphia Phillies. He has lowered his ERA from 4.26 to 3.71 during May.
Perez, too, has felt the sting of non-support -- the Rangers have scored just four runs for him in his three 2017 road starts.
He is 2-2 with a 6.58 ERA and 1.923 WHIP lifetime against the Red Sox, 1-1 with a 9.58 in two starts at Fenway.
Rangers hitters can't be happy to see Sale coming. He is 4-2 with a 3.29 ERA lifetime against Texas, but Shin-Soo Choo is 1-for-19 (.053) with 10 strikeouts, Elvin Andrus 2-for-23 (.087), Mike Napoli 3-for-18 (.167) with a homer and Joey Gallo 0-for-6 -- striking out all six times.
Against Perez, Chris Young is 4-for-7 (.429) with a homer, Mookie Betts 3-for-6 (.500) and Hanley Ramirez 2-for-5 (.400), but Xander Bogaerts is just 1-for-10 (.100) and Dustin Pedroia 3-for-14 (.214).