Rangers' reliance on Tolleson grows with each save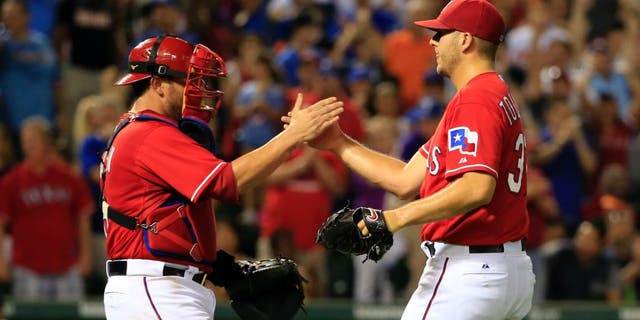 ARLINGTON, Texas -- €" Having earned saves in each of the last two games, Rangers closer Shawn Tolleson could have used a day off Saturday.
Yet with the Rangers holding onto a 4-3 lead over Orioles, there was Tolleson again on the mound in the ninth inning.
"It was a tough decision," Rangers manager Jeff Banister said. "We've got to find an opportunity to get him a day or two down. And find an opportunity to use somebody else in that closing role, really, to keep him fresh going forward."
Tolleson had enough left in his tank Saturday to earn his 28th save in 30 opportunities. Although Tolleson gave up a hit and a walk, he served up two ground balls and struck out Orioles slugger Manny Machado to end the game.
So much for fatigue.
"I felt like tonight he was good," Banister said. "He gave us an indication that he was good. His stuff was still sharp, a couple of balls off the edge of the plate, but we'll look to be able to manage that going forward."
The strikeout of Machado, with runners at the corners, was a tension-filled moment created when Tolleson could only induce two outs from the bottom four spots in the Baltimore lineup.
Machado, the Orioles' leadoff hitter, was called out when he couldn't check his swing on a high fastball.
"We knew that that matchup was out there," Banister said. "We trust Shawn. You look at the number of saves and the situations he's been in and how good he's been for us. That's why we run him out there. He's proved to be a really good major league closer."
It wasn't the first time Tolleson had created drama in the ninth by putting runners on. Without an overpowering fastball, Tolleson doesn't always have easy saves.
With the addition of new arms to the Rangers' bullpen, fans have begun to grumble on the internet and call-in shows that maybe someone else should get a shot at closer. That grumbling grew louder last Tuesday when Tolleson blew his second save against Toronto.
Banister won't hear of it. The final results, 28 saves in 30 opportunities, are what matter.
"We've said it a number of times, this is a guy who doesn't get caught up in the moment," Banister said. "He sticks to his stuff and he doesn't give in. There are nights he makes it very quick and there are nights he has to maneuver and work around some things, but he's done a great job for us."
Follow Keith Whitmire on Twitter: @Keith_Whitmire
MORE FROM FOX SPORTS SOUTHWEST:
- PHOTOS: Cowboys Cheerleaders Auditions
- Ranking NFL quarterback salaries
- Highest paid player on every NFL team
- College football's biggest video boards