Rams' Welker adapting to new team, second quarterback in two weeks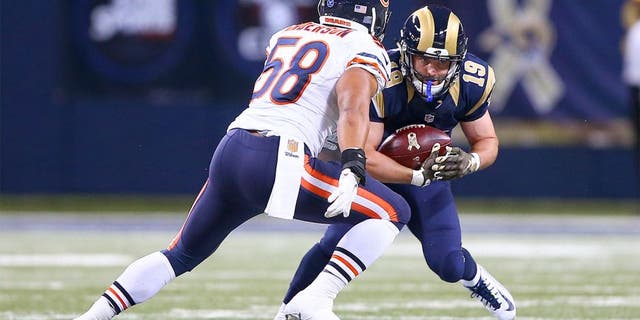 Wes Welker will play with his second quarterback in as many games for the Rams. Billy Hurst USA TODAY Sports
Wes Welker had six days to learn the playbook before stepping on the field last weekend for his season debut with the St. Louis Rams..
And while Welker's familiarity with the offense has grown, the cramming sessions will have to continue with a just a few practice sessions to adapt to new Rams quarterback Case Keenum.
"I think you just go out there and try and do your job and do everything you can to try and help the team win," Welker said after coach Jeff Fisher decided to bench Nick Foles in favor of Keenum. "I'm just kind of focused on myself, going out there and playing how i need to play."
Signed on Nov. 9 to take the place of the suspended Stedman Bailey, Welker played primarily on third-down situations in Sunday's 37-13 loss to the Chicago Bears. He finished with three receptions for 32 yards on six targets.
"Obviously it's not the outcome we wanted, but it was good game reps for me to kind of get my feet wet," Walker. "Wish we could have connected on a few more of those.
Walker doesn't expect to have much of an issue with Keenum under center, noting both players were in similar offensive systems in college and pointing out how Keenum has helped him learn some of St. Louis' plays and passing routes.
"I think after this being my 12th year now, you just kind of pick it up and go," Welker said.