QB Hoyer taking nothing for granted in Houston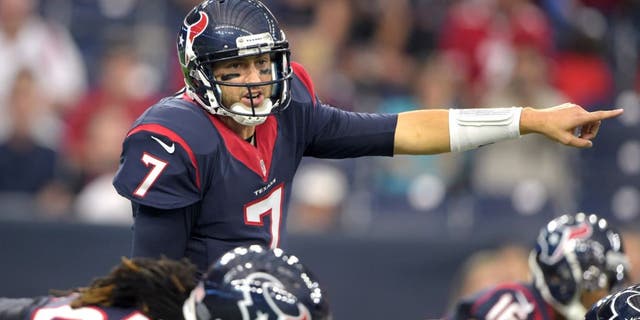 Eight games into his tenure as member of the Houston Texans, quarterback Brian Hoyer heads into the bye knowing that finally, he has a firm hold on a starting spot.
Hoyer was benched in the season-opening loss to the Chiefs in favor of the since-released Ryan Mallett, before eventually regaining the starting job for the team's Week 6 win over Jacksonville.
With Houston tied for first place in the AFC South with the Indianapolis Colts and Hoyer now entrenched as the starter, the seven-year veteran is hoping to build on a first half of the season that saw him throw for 1,581 yards in the first half of the season, with 13 touchdowns against three interceptions.
At the same time, Hoyer, who has played for five teams over the course of his career, said he's taking nothing for granted.
"I think obviously that it's good, but, for me at this point in my career with what I've gone through, it's really one day at a time and one game at a time," Hoyer said, per Aaron Wilson of the Houston Chronicle. "I'm going to continue to take that mentality towards it. Yeah, obviously, I'm always excited to have the opportunity to play in the NFL. I think one of the things that my experiences have taught me is how fortunate I am to be in this position. I go out every day and try to make the best of it."
Despite a turbulent start to the year, Hoyer said the team is looking at the eight games after the bye as a new season. With the Texans tied for first place in the division at 3-5, the playoffs remain a real possibility for the team at this point.
"Things didn't always go the way we wanted them to in the first eight, but we're in a position to go out and do some really good things in the second half of the season," Hoyer said. "I'm fortunate to be the guy that's going to be able to do that."
MORE NEWS: Want stories delivered to you? Sign up for our NFL newsletters.