PSG suspends Aurier over team insults before Chelsea game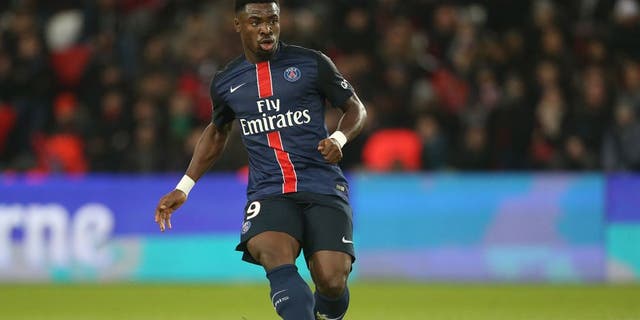 Paris Saint-Germain will be without Serge Aurier for this week's Champions League game against Chelsea after the defender was suspended until further notice for insulting coach Laurent Blanc and some of his teammates in a video posted on a social network.
Two days before PSG takes on Chelsea in a first-leg match in the Champions League's last 16, the French club said it had begun disciplinary proceedings against Aurier, who will miss Tuesday's game at the Parc des Princes.
During a live session with fans on social media posted late Saturday night, Aurier aimed abuse at Blanc and also insulted teammates, including Zlatan Ibrahimovic.
When asked about Blanc's working relationship with Ibrahimovic, Aurier made obscene comments and then used a pejorative term for a homosexual to describe the coach. Aurier also said he was not intimidated by Ibrahimovic after a fan asked him if the Sweden international was putting pressure on his teammates.
"This video, shot in a private environment, clearly contains some inadmissible words coming from a Paris Saint-Germain player against some of his teammates and particularly the coach Laurent Blanc," PSG said in a statement on Sunday.
PSG president Nasser Al-Khelaifi added that the club is a "very strong institution that nobody can touch" and insisted he would not allow anyone to play havoc with his team's ambitions.
Aurier, who has been a key player for Blanc this season, apologized on Sunday for his comments and thanked Blanc "for all he did for me since my arrival here in Paris."
"He wanted me, I came and everything is going really well," Aurier said. "I owe him a lot. I accept all the sanctions the club will take against me."
It was not the first outburst from Aurier, who was suspended for three matches last year after he insulted a Champions League referee on social media.
After PSG eliminated Chelsea in the Round of 16, Aurier posted a video on Facebook in which he insulted Netherlands referee Bjorn Kuipers, who sent off Ibrahimovic in the first half at Stamford Bridge. Aurier was injured and did not play in the match.