Pride on the line as Hawks hope to avoid a sweep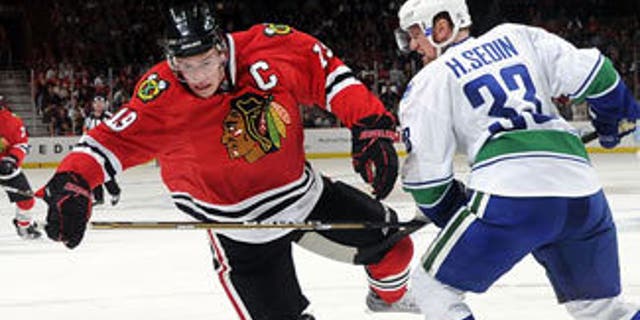 CHICAGO -- They've talked about desperation and needed to play with it for most of the last two months just to get into the Stanley Cup Playoffs.
Now, down 3-0 in a Western Conference quarterfinal series to a bitter rival, it's something different motivating the Chicago Blackhawks for Tuesday's Game 4 against the Vancouver Canucks.
Now, it's about pride.
It doesn't matter that Vancouver won the President's Trophy and came into the postseason as the West's top team, while the Hawks needed help on the final day of the regular season to qualify. It doesn't matter that the past two games were each decided by one goal or that neither of the Sedins scored in the series opener -- a 2-0 Canucks win.
It doesn't even matter, really, if the Hawks can do the unthinkable and overcome the franchise's 0-17 all-time record in series when down three games to none.
Tuesday night is about pride for the Blackhawks -- nothing more, nothing less.
"There's a huge pride factor," Hawks captain Jonathan Toews said on Monday. "I mean, we have a history with this team, and coming into this series we felt we had just as good of a chance to win as they did. We didn't plan on being in this situation. There's a huge pride factor. We just want to stay alive in this series."
Not just to try for an improbable comeback, either. Coming all the way back on the Canucks would be savory for the Hawks, for sure -- but merely extending the series as long as possible, making their rivals sweat it out, would also lessen the humiliation of being swept.
"I think that's what it's all about is pride," Hawks defenseman Duncan Keith said. "We have a lot of pride in this room. We've worked hard all season long, and knowing that we're facing one game and our season could be over, I think that says it all right there."
The defending Cup champions also have another reason to dislike the Canucks after Vancouver forward Raffi Torres laid two big hits on Chicago defenseman Brent Seabrook Sunday night -- including one behind the Chicago net that was penalized for interference.
Torres, coming off a suspension for an illegal hit in the last week of the season, was not suspended by the League -- and after Game 3 Toews said the Hawks might have to deal with it on the ice.
On Monday, however, they all agreed the best way to get revenge is to simply beat the Canucks where it counts most -- on the scoreboard.
"(Seabrook) is a warrior and nobody likes seeing a guy take a hit like that, so I mean, we're going to use that for motivation,' Keith said. "But at the same time, there's no talk in here about, 'We've got to get back at Torres.' We've got to win. Our season is on the line."
So is their pride.
The past two seasons, it's been the Canucks who've had to swallow hard after being ousted from the playoffs by Chicago. Now, it's looking like turnabout is fair play.
Until now, most of the ill feelings in this rivalry were directed at the Hawks by Vancouver players. Chicago players -- 11 of whom are no longer with the team -- always responded in kind. Now, the Canucks are poised to feed the Hawks a taste of their own playoff medicine, the scowl-inducing, bitter-tasting kind.
Two years ago, Vancouver star goalie Roberto Luongo was even brought to tears in the visitor's locker room at the United Center after Patrick Kane tormented him with a hat trick in a 7-5 loss to end that playoff series in six games. Neither side has forgotten it, but the Canucks would love nothing more than to let Luongo laugh last on Tuesday night with a sweep.
Quite possibly the biggest thing standing in the way of that happening is how proud the Hawks are -- of what they've accomplished, of their organization's Original Six status and of the city they represent.
"We'll see what happens, but we want to leave it all on the ice and have a sense of pride in here that we can give the fans a good showing and be proud of the organization we play for," Kane said. "We still feel we can compete with these guys, and that's pretty important at this stage of time."
Teammate Patrick Sharp concurred.
"We want to make sure we represent the jersey (and the) the organization," said Sharp, who is playing after coming back early from a suspected knee injury in the last week of the regular season. "It's the best place to play in the League and pride's a huge factor, so we want to make sure we play our best game tomorrow."
Otherwise, they're going to have a long summer to stew about it.