Preview: Rookie Jacob Faria tries to help Rays split series with Tigers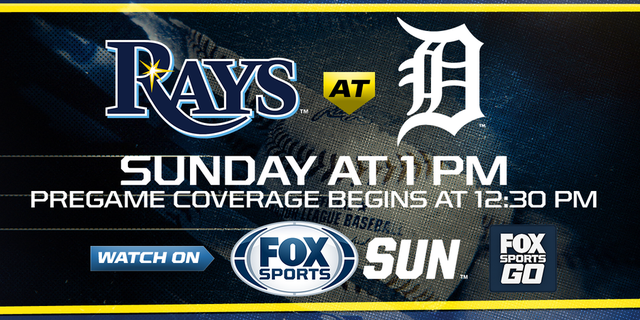 NEWYou can now listen to Fox News articles!
TV: FOX Sports Sun
TIME: Pregame coverage begins at 12:30 p.m.
DETROIT -- Right-hander Jake Faria will attempt to become the second pitcher in Tampa Bay Rays history to win his first three career starts on Sunday when the team vies for a split of its four-game series against the host Detroit Tigers.
Faria (2-0, 1.42 ERA) joined Jeremy Hellickson and Joe Kennedy as the lone Tampa Bay pitchers to win their first two career starts after limiting Toronto and the Chicago White Sox to one run Tuesday and June 7, respectively.
Hellickson holds the distinction of winning his first three, accomplishing the feat in 2010.
Faria will need to subdue a Tigers team that won the first two games of the series by outscoring the Rays 18-7.
Detroit will look to secure a series victory behind Buck Farmer (2-0, 3.52). The right-hander got tattooed in his last start -- his third of the season, but did not take the loss despite giving up six runs on nine hits in 2 1/3 innings. Farmer had not allowed a run in his first 13 innings of the season.
Farmer pitched once against the Rays, a relief appearance in 2015 in which he gave up a run on two hits in one-third of an inning.
Detroit learned Saturday it will probably be without the services of designated hitter Victor Martinez for at least two weeks. Martinez was released from the hospital Saturday but will be monitored for irregular heartbeat for 7-for-10 days while doing nothing but rest during that period.
Even if cleared for baseball at that time it would still take at least several days to get back to playing level.
"He's not going on the road trip with us," Tigers manager Brad Ausmus said. "He's staying here. The prognosis is he's probably going to need a week of rest before he does anything else."
Detroit has a seven-game West Coast road trip next week.
Tampa Bay will return home after Sunday's contest and will see Trevor Plouffe join the team. Plouffe will be looked upon to help Tampa Bay combat left-handed pitching.
Plouffe, 31, was acquired Saturday from Oakland for cash considerations. He hit .214 with seven home runs and 14 RBIs in 58 games for the Athletics at the time he was designated for assignment.
"Rickie's on the DL," Tampa Bay manager Kevin Cash said of Rickie Weeks, who has a right shoulder problem. "I think our struggles against left-handed pitching have been noted. We've gone out and tried to do something."
Tampa Bay lost to southpaw Daniel Norris and Detroit on Friday night to drop the Rays to 8-16 against southpaw starters, second-worst in the league. Plouffe did hit .294 against left-handers this season.
"Trevor's a proven player, a veteran guy," Cash said. "He got off to a slow start in Oakland, so hopefully a different scene will kind of rebound him a little bit. He's a guy that we liked in the offseason that we talked quite a bit about.
"We wanted to get him then. To get an opportunity to get him now seems to fit well. He can play first, play third. Let's get him in here. I understand he's not going to be here for a couple days.
"He'll play first, play third. I think it's fair that we'll explore some other things. Potentially a little bit, see how he feels in the outfield. Look, if we can get him play those two that we mentioned, LoMo (Logan Morrison), Longo (Evan Longoria), both those guys … we need to get them off their feet some days to keep them as fresh as possible."