Preview: Marlins kick off homestand against first-place Nationals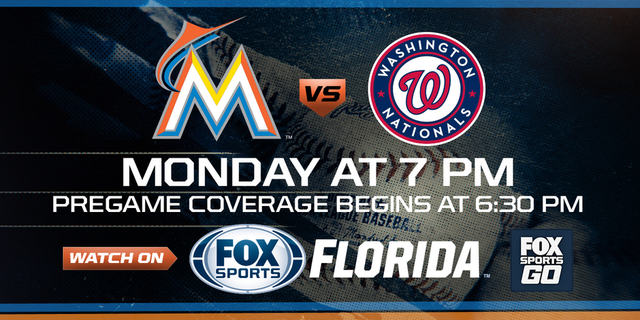 NEWYou can now listen to Fox News articles!
TV: FOX Sports Florida
TIME: Pregame coverage begins at 6:30 p.m.
MIAMI -- The Miami Marlins have been playing their best baseball in the last month and they have a chance to make a dent in the National League East standings this week despite a tough weekend.
Miami (30-37) plays host to the division-leading Washington Nationals (42-27) at Marlins Park on Monday night in the first of the three-game series between the NL East teams.
The meeting is just the second this season between the division rivals. Miami opened the 2017 campaign by dropping two of three in the nation's capital.
The Marlins have been looking up at the Nationals ever since.
However, the team has found its legs after a rocky start. Miami is 13-7 since beating the Los Angeles Angels on May 28.
That promising run was tempered a bit in the Marlins' first visit to SunTrust Park, the Atlanta Braves' new ballpark. After a 5-0 shutout win in the series opener, Miami watched as its bullpen faltered on Saturday and Sunday as the Braves earned consecutive walk-off victories.
Miami held four- and two-run leads in the latter part of both games but saw the two victories slip away in the end, 8-7 in 10 innings on Saturday and 5-4 on Sunday.
"Obviously, yesterday we were up four and unable to hold on," Miami manager Don Mattingly said. "Today, (starter Jose Urena) pitched really good. We had chances to tack on runs and weren't able to do that. In a 2-0 game, we just weren't able to hold it down."
To gain ground on Washington, Mattingly will turn to Justin Nicolino (0-1, 4.15). The left-hander is returning from a bruised left index finger that landed him on the disabled list and will make his first start since May 30.
Washington will counter with one of its usually most consistent if not flashy arms -- Tanner Roark (6-4, 4.39). However, the right-hander has struggled in his last three outings, going 1-2 with a 6.27 ERA in 18 2/3 innings.
Roark beat the Marlins in his first start of the season at Nationals Park on April 5.
The Nationals have lost six of the last 10 -- mainly due to a leaky bullpen -- but did manage to take three of four from the Mets in New York over the weekend. Washington leads both Atlanta and New York by 10 1/2 games.
The bullpen, which ranks as the worst in the NL, bailed out the Nationals in a 7-4 win at Citi Field on Saturday. Four relievers recorded the final 11 outs after starter Stephen Strasburg left with a 4-2 lead.
After Blake Treinen, Matt Grace and Joe Blanton, red-hot lefty Enny Romero posted the last five outs of the game, getting Yoenis Cespedes to ground into a game-ending double play.
It was the kind of success the Washington bullpen hasn't been accustomed to, though Romero hasn't allowed a run in his last 12 innings over 10 appearances.
"Our bullpen did a great job because they got 11 outs. That's a lot of outs for your bullpen," said Nationals manager Dusty Baker.