Preview: Marlins begin four-game series vs. Dodgers in L.A.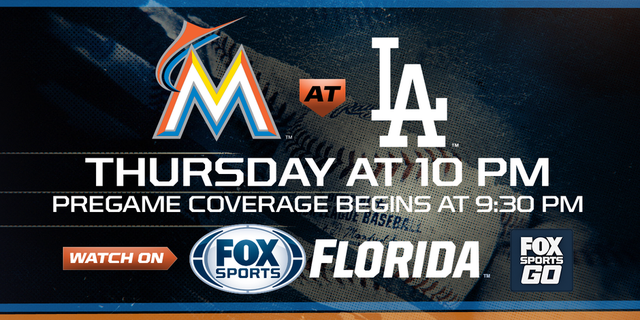 TV: FOX Sports Florida
TIME: Coverage begins at 9:30 p.m. ET
LOS ANGELES -- Miami manager Don Mattingly will be seeking some solutions for his slumping Marlins when they begin a six-game swing to the West Coast.
Mattingly will turn to right-hander Edinson Volquez (0-5, 4.41 ERA) to provide a much-needed boost Thursday when the Marlins open a four-game series against the Los Angeles Dodgers at Dodger Stadium.
Volquez will make his second start since coming off the 10-day disabled list after recovering from a blister on his right thumb. He will face Dodgers lefty Hyun-Jin Ryu (1-5, 4.99 ERA).
Since opening the season with a 10-8 mark, the Marlins have gone 4-17. They endured a 1-7 record during their recent homestand, dropping two of three to the Houston Astros to cap it.
The Marlins were outscored 22-4 in the three games against Houston, getting blanked 3-0 in the series finale on Wednesday.
"I don't know that I've ever been through (a stretch) like this," said Mattingly, a former Dodgers manager who is in his second season guiding the Marlins. "This is extended. At some point, we've just got to play better."
Volquez, acquired as a free agent during the offseason, has been a mixed bag. Although he gave up two runs on four hits with five strikeouts and two walks in six innings in a 3-1 victory by the Atlanta Braves on Saturday, it was his fourth consecutive loss.
In four of his seven starts, Volquez has walked at least four batters, including eight with nine strikeouts in 4 1/3 innings in a 3-1 setback to the Tampa Bay Rays on May 2. He left that contest with a blister.
Volquez, a former Dodger, is 3-4 with a 4.29 ERA in nine career starts against Los Angeles. He hasn't faced the Dodgers since July 21, 2014, when he was a member of the Pittsburgh Pirates and was tagged for five runs on 10 hits in 5 2/3 innings in an 8-7 win by the Dodgers
The Marlins are 1-7 in Volquez's starts.
Ryu was hit hard in his last outing on May 11 at Coors Field against the Colorado Rockies. Ryu served up a career-high 10 runs (five earned) on eight hits in four innings in the Dodgers' 10-7 loss. He struck out four and issued a career-worst six walks on 101 pitches.
Against the Marlins, Ryu is 1-1 with a 2.57 ERA in two career starts. He hasn't pitched against Miami since Aug. 19, 2013, when he allowed three runs on six hits in 7 1/3 innings, taking the defeat in a 6-2 setback. Ryu struck out five and walked two.
The Dodgers (23-18) begin a 10-game homestand after ending a three-game skid in a 6-1 win over the San Francisco Giants on Wednesday. Clayton Kershaw (7-2) worked seven scoreless innings. Yasmani Grandal and Yasiel Puig delivered two-run, two-out hits for the Dodgers, who compiled a 3-4 road trip.
"For us, it couldn't have played out any better," Dodgers manager Dave Roberts said regarding Kershaw's pitching and his club's clutch hitting.
Marlins catcher A.J. Ellis, who was traded by the Dodgers last season to the Philadelphia Phillies, will make his first return to Dodger Stadium since the deal.