Preview: D-backs vs. Reds, 7 p.m., FS1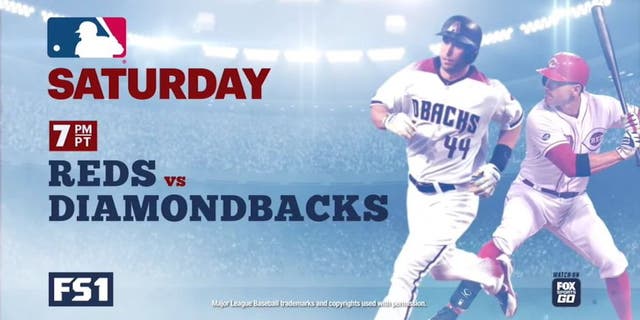 PHOENIX -- Arizona right-hander Taijuan Walker has taken another step forward this season, seemingly spurred by a change of scenery.
The Diamondbacks traded Jean Segura and Mitch Haniger to Seattle for Walker and Ketel Marte this winter, a deal that also enabled the Diamondbacks to add controllable pieces and move a potential cash drain in Segura, who recently signed a five-year, $70 million contract with Seattle before entering his final year of arbitration.
It seemed a motivator.
"I guess you could say I'm on a mission," Walker said. "The D-backs wanted me more, and that obviously makes you feel good. You want to go out and do your best and show why they gave up some good pieces to get you. Really good pieces. We're winning, and I want to be contribute to that."
Walker, 6-3 with a 3.30 ERA, will make his 14th start of the season in the second game of a three-game series against Cincinnati on Saturday. He has never faced the Reds.
Cincinnati will start rookie Luis Castillo, who is 0-1 in three starts. He was the victim of a blown save in his first two starts before losing at Colorado on Monday. Castillo is one of the 13 starters the Reds have used this season.
Diamondbacks and former Angels pitching coach Mike Butcher had seen Walker's talent from the other dugout, and the two worked in spring training to define a delivery that had gotten a little out of whack because of bonus spurs in Walker's right ankle last year. He had surgery this winter.
"He battled some stuff with his ankle last year, and just trying to get him realigned on the rubber and stay more connected with his body," Butcher said. "Trying to give him a little more direction and rhythm to his delivery as well. Then throughout the season, getting the hand speed going a little bit more where he is getting more extension with this pitches."
So far, Walker has been a mainstay on a staff that is second in the majors with a 3.39 ERA, almost two runs better than last year. He has thrown 76 1/3 innings this season because of a blister that cost him four starts, and is 11 innings short of qualifying for the league leaders. He would rank 12th in the National League in ERA, behind Washington All-Star Stephen Strasburg and ahead of Miami's Dan Straily. After giving up 25 and 27 homers the last two seasons, Walker has given up five this year.
Walker discarded a cut fastball this spring and added a slider this season to go with a curveball and a circle changeup. The addition seems to have given him more tilt on the slider and a little more deception to his fastball. He ground-ball rate is higher than it has ever been and his home run rate is lower. Hitters are not pulling the ball as much, either.
"We found something that was comfortable," Walker said. "Just better rhythm and a little bit more deception with my pitches. I feel like I can get on top of the ball more and have a better angle with my fastball."
The Reds will test Walker's ability to keep the ball on the ground.
Joey Votto hit his 25th homer and Scott Schebler his 22nd in the ninth inning of a 6-3 loss to Zack Greinke and Arizona on Friday. Adam Duvall, who had two hits, has 20 homers, making the Reds the only team in the majors to have three players with at least 20.
"We have the ability to score runs, as we saw there late in the game," Cincinnati manager Bryan Price. "We hit some homers, put the barrel on the ball."