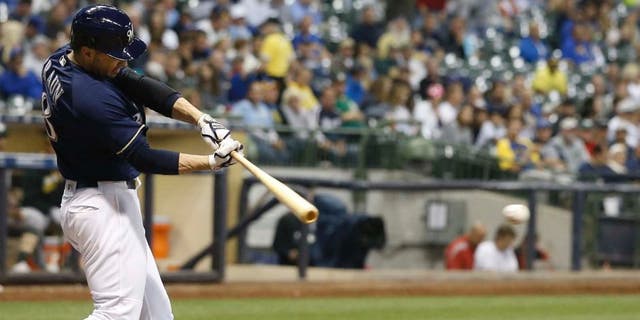 NEWYou can now listen to Fox News articles!
OAKLAND, Calif. -- The Oakland A's will have payback on their minds Tuesday night when they open a two-game interleague series against the Milwaukee Brewers at the Oakland Coliseum.
The Brewers swept a two-game series against the A's on June 7-8 at Miller Park. Milwaukee won the opener 5-4 and the finale 4-0.
"I think obviously we went there and they had two good pitching performances against us," A's catcher Stephen Vogt said Sunday. "We also had (Danny) Valencia and Khris Davis out of the lineup both those games. So looking ahead to this next series, we're hoping to take two from them. Hopefully we're healthy and ready to go."
Valencia, who is batting .326 with 10 home runs and 27 RBIs, missed both games against the Brewers with an illness. Davis, a former Brewer, was out with an elbow injury. Davis, who leads the A's in home runs (16) and RBIs (45), came out after the seventh inning Saturday against the Angels with a sore calf, and he didn't play Sunday.
A's manager Bob Melvin said the injury was "minor" and is hopeful that Davis will be able to play on Tuesday after an off day Monday.
The A's acquired Davis on Feb. 12 from the Brewers in exchange for two minor leaguers, catcher Jacob Nottingham and pitcher Bubba Derby.
A's right-hander Sonny Gray (strained right trapezius) will make his fourth start since coming off the disabled list June 5. He is 0-1 with a 3.86 ERA and a .257 opponents batting average in his past three starts. He went 3-5 with a 6.19 ERA and .285 opponents batting average in nine starts before going on the DL.
"Since he's come back from the injury his stuff's been really, really good,". Vogt said.
In his previous start, Gray blanked the Rangers for five innings but gave up five runs in the sixth and got a no-decision in a 7-5 loss.
"I just started leaving the ball up and they really put some good swings on it and hit it really hard," Gray said. "I've got to try and stay down in the zone and continue to make pitches throughout the game. Just try to stay locked in the whole game."
Brewers right-hander Jimmy Nelson will face Gray and try to get back on track. He has gone 0-3 with a 9.69 ERA in his past three starts, allowing 23 hit in 13 innings. In his first 11 starts, Nelson went 7-4 with a 2.88 ERA.
Nelson is coming off a nightmare start in a 10-1 loss to the San Francisco Giants at AT&T Park in San Francisco. He gave up eight runs (six earned) on eight hits over 3 2/3 innings. He walked three and struck out two.
"It's very frustrating for me," Nelson said after the loss to San Francisco on Wednesday. "The last three have been completely unacceptable to me. It's just been brutal. I have to move on from that."
The A's and Brewers are both struggling. Milwaukee has lost six of its first seven games on a nine-game road trip, including a 2-1 defeat to the Los Angeles Dodgers on Sunday.
Oakland fell to 2-5 on its nine-game home stand with a 2-0 loss Sunday to the Angels. The A's scored four runs in the three-game series.