Predators look to keep pressure on Gibson, Ducks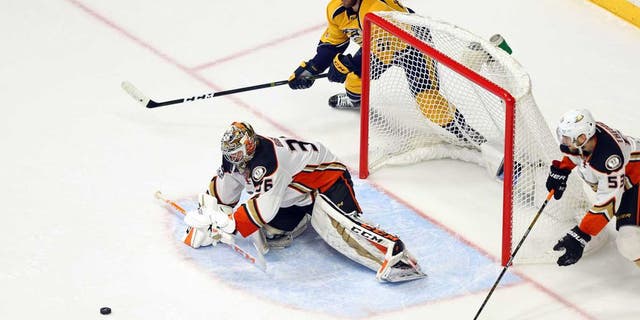 NASHVILLE, Tenn -- It would have been easy for the Nashville Predators to get frustrated Tuesday night.
They were taking two shots for every one attempted by the Anaheim Ducks, but between the great play of goalie John Gibson and their inability to bury chances, the Predators entered the third period 20 minutes from trailing 2-1 in the Western Conference Final.
Instead, Nashville rallied for goals by Filip Forsberg and Roman Josi to earn a 2-1 win that gave it the upper hand in the series. Now, it has an opportunity to push the Ducks to the brink of elimination in Thursday's Game 4 at what will be an insanely loud Bridgestone Arena.
"You're pressing, and a goaltender is good," Nashville captain Mike Fisher said. "The key is to just stick with it and believe that you're going to get one at some point if you keep going. That's what we did. We just didn't give up."
Anaheim coach Randy Carlyle might have doubted the validity of the shot count in Game 3, but he and his players knew the ice was tilted in the Predators' favor. At one stretch that bridged the first and second periods, Nashville fired 19 shots on net to the Ducks' one.
But Gibson, who was mostly mediocre in Anaheim's seven-game win over Edmonton in the conference semifinals, has been mostly outstanding in this series. He kept the Ducks in contention during a series-opening 3-2 overtime defeat with 43 saves, stopped 30 shots Sunday night in a 5-3 Game 2 victory and was the best player on the ice for a considerable stretch in Game 3. Gibson made 38 saves.
"He was incredible," Anaheim captain Ryan Getzlaf said. "I mean he played awesome. They were bumping into him all night long. I saw him on his back like five or six times and he stood in there and made the saves that he's supposed to, and some that he shouldn't. He allowed us to stay in the game."
The Predators have stressed net-front presence in this series, and in Game 3, it was to an extreme. They saw two goals waved off in eight seconds, shortly after Forsberg's equalizer at 3:55 of the third period made it 1-1.
Instead of backing off, Nashville continued attacking. It got a late power play and Josi pounced on a rebound in the right circle at 17:17 for the Predators' 10th straight home playoff win, dating back to April 25, 2016.
"You always try to establish your building as a tough place to play," goalie Pekka Rinne said. "I think we've been doing that. You don't want to look back at your home games as a missed chance. We've been doing a really good job."
Rinne got back on track after his first shaky performance of the playoffs in Game 2, stopping 19 of 20 shots in Game 3. He's ceded just seven goals on 174 shots in six home games during the postseason, and has permitted only one marker in each of the last five home contests.