Powered up: McCarthy hopes to get Packers going vs Titans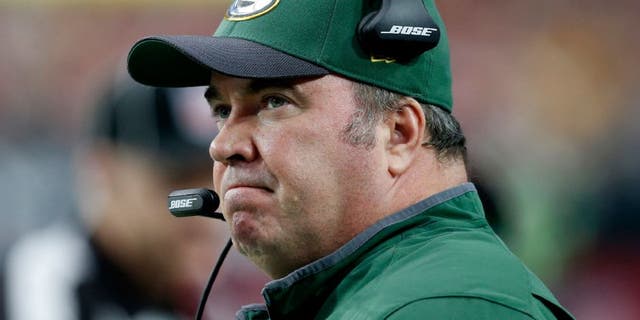 GREEN BAY, Wis. -- If the Green Bay Packers did indeed experience an energy shortage during last week's loss to the Indianapolis Colts -- and Mike McCarthy did his best to walk back that narrative in the days following the defeat -- their coach does not believe that will be a problem again.
"We'll play with great energy Sunday," McCarthy said Wednesday as his team began preparations for the first of three consecutive road games, a stretch that begins at Tennessee. "That's not a concern of mine."
It was a concern at least in the immediate aftermath of the 31-26 loss to the Colts, as it was part of McCarthy's postgame message to the team.
Aaron Rodgers then publicly questioned the team's passion during his postgame press briefing, as did veteran offensive lineman Bryan Bulaga. Both players said the team lacked "juice" and that the vibe on the sideline was not an energetic one. They added that allowing a 99-yard touchdown on the opening kickoff should not have had such an impact on the team's mood.
"Our guys will bring it. We've just got to get detailed. That's really what our focus is on," McCarthy said. "We're just paying attention to what matters and it's about improvement."
Asked how confident he is that his team will have the requisite energy this weekend, Rodgers replied, "I expect everybody to come ready to play and prepared and excited about it. You know, we just need to weather some of the ups and downs a little bit better."
"Obviously not the way you want to start a game with the kickoff return for a touchdown, but we need to weather that a little bit better this week - all of us, and it'll start with me," Rodgers added. "I'll make sure that our guys are ready to play and we're enthusiastic about it and fired up to be out there, because it's a great opportunity and a great privilege to do what we do and we're not going to take it for granted."
A loss Sunday would put the Packers (4-4) below .500 for the first time since they started the 2014 season 1-2. The Packers haven't been below .500 this late in the season since 2008, Rodgers' first year as a starter following the team's ugly divorce from his quarterbacking predecessor, Brett Favre.
That year, the Packers were 5-5 after 10 games but lost five straight and finished 6-10.
The matchup that could decide the game Sunday figures to be the Packers' No. 1-ranked run defense (75.8 yards per game) against the Titans' third-ranked rushing offense (144.2 yards).
"Their run versus our run defense, it's going to be a hell of an afternoon," McCarthy said. "I think it's a great matchup. I think it's going to be a heck of a game."
NOTES: RB James Starks and TE Jared Cook took part in practice Wednesday, and McCarthy seemed encouraged by their involvement. Starks hasn't played since Oct. 9 because of a knee injury, and Cook has been sidelined since suffering a high ankle sprain on Sept. 25. They will need to do more work in Thursday's in-pads practice in order to play Sunday. . McCarthy said LB Clay Matthews, who hasn't played since Oct. 20 because of a hamstring injury, had not been evaluated because he was absent due to a "positive personal experience" on Tuesday. . The Packers re-signed safety Jermaine Whitehead to the practice squad after releasing him Monday from the 53-man roster.