Potential Brewers trade partners for Lucroy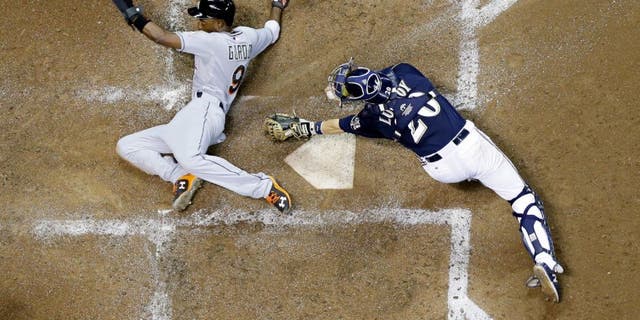 NEWYou can now listen to Fox News articles!
Milwaukee Brewers catcher Jonathan Lucroy recently said that he thought, while noting he wasn't demanding a trade, it would be best for him if the team traded him to a contender.
Despite having an off year in 2015, in part because of injuries, Lucroy is a valuable commodity. He's a proven good hitter and defensive catcher, plus has a reasonable salary for 2016 and 2017, the latter being a team option, which anyone would be foolish not to pick up.
Last season, Lucroy hit .264 with a .326 on-base percentage and .391 slugging percentage -- all of which were his lowest totals since his first two years in the league. However, in the second half of the season, Lucroy had splits of 289/347/461, which is more in line with what a team could expect from him.
In other words, like we said, a valuable commodity.
But other than saying any team would love to have Lucroy, who are really the teams -- contending teams -- which need a catcher?
The list really isn't that long.
Perhaps there is a trade partner out there, but keep in mind many teams don't need a catcher, aren't a contender and/or don't have a lot of prospects to offer. Also keep in mind that Milwaukee doesn't have a catching prospect in their system, and acquiring one for Lucroy might be paramount to any trade.
With all that in mind, here's a breakdown of who could, is likely doubtful but might and wouldn't make a deal for Lucroy.
VERY UNLIKELY
Blue Jays -- Russell Martin might be older, but Toronto has him locked up to a long-term contract.
Cardinals -- Even if St. Louis didn't have Yadier Molina, could you imagine the uproar in Milwaukee?
Cubs -- Chicago seems set with Miguel Montero (signed for a few more years), backup David Ross and potentially even Kyle Schwarber. And again, that uproar thing.
Dodgers -- Los Angeles is fine with Yasmani Grandal and A.J. Ellis.
Giants -- Buster Posey. Enough said.
Indians -- Yan Gomes is younger than Lucroy and locked up to a long-term deal.
Marlins -- It is hard to gauge Miami at times -- are they buyers? Sellers? -- but they have a good, young catcher in J.T. Realmuto.
Mets -- New York has one of the better young power-hitting catchers in Travis d'Arnaud.
Orioles -- Baltimore has Matt Wieters for at least one more year.
Padres -- 1. Derek Norris is fine at catcher. 2. San Diego is apparently trying to deal Derek Norris for prospects.
Pirates -- The Pirates seem set with Francisco Cervelli and Chris Stewart, the latter of whom just signed an extension.
Royals -- Like Cleveland's Gomes, Salvador Perez is younger than Lucroy and recently signed a long-term contract with K.C.
Twins -- Minnesota traded for John Ryan Murphy in the offseason with the purpose of making him the starter, or at least splitting time with Kurt Suzuki.
White Sox -- Chicago signed free agent Alex Avila to a one-year contract in the offseason, so Chicago figures to ride him out. However, if he gets hurt or underproduces, perhaps the White Sox are a midseason trade candidate.
Yankees -- Brian McCann will be around for a while and although he could be a DH, New York already has plenty of candidates for that spot.
NON-CONTENDERS
Braves -- Maybe a midseason trade candidate if things really work out well in the first half.
Phillies -- Could definitely use a good catcher, but they are seemingly years away from contending.
Reds -- Not a chance.
Rockies -- Despite having Nick Hundley and Dustin Garneau behind the plate, Colorado is in sell mode and looking to gain young players.
LIKELY NOT BUT YOU NEVER KNOW
A's -- With Stephen Vogt it would seem as though Oakland was set at catcher, but FOX Sports' Ken Rosenthal has said the A's inquired about Lucroy. You never know with Oakland GM Billy Beane, but a matchup does seem unlikely.
Mariners -- At first glance, Seattle would seem like a logical place as the Mariners' catcher is Chris Iannetta. But they signed Iannetta as a free agent this offseason so apparently that's how they want to roll in 2016.
Nationals -- Like the A's, Washington seems set at catcher with Wilson Ramos, but according to Rosenthal they were one of the teams asking about Lucroy. Lucroy would be an upgrade. So maybe Ramos and a prospect? Although seems like Milwaukee is fishing for more than that. A lot more.
Rays -- Tampa Bay currently has Curt Casali and Hank Conger behind the plate. Lucroy would obviously be a huge upgrade. However, the Rays aren't known to usually add players and salary. Tampa does have three catchers in MLB.com's top-30 Rays prospects from 2015 -- Justin O'Conner (No. 8) could fit right in with a rebuilding Brewers team. The other two, Chris Betts (No. 12) and Nick Ciuffo (No. 19) are further away from the majors. In fact, Betts, drafted last season in the second round, is coming off Tommy John surgery.
Red Sox -- Boston is likely going with young Blake Swihart, a 2011 first-round pick, behind the dish. But the Red Sox also appear to be gearing up for a playoff run following a disappointing 2015, having acquired, among others, David Price and Craig Kimbrel. Might a veteran catcher -- known to work well with pitchers and one of the better framers -- with some pop look good in the lineup? A catcher for catcher trade might be interesting. The odds are long here, but Lucroy is the model for Swihart in a couple of years. Boston might not want to wait.
POSSIBILITIES
Angels -- Everyone seems to be waiting for the Angels to make a move, but owner Artie Moreno appears not to want to go over the luxury tax. Lucroy wouldn't add too much salary and he'd be an obvious upgrade over Los Angeles' current catching situation of Carlos Perez and Geovanny Soto. With the lineup the Angels have, there wouldn't be as much offensive pressure on Lucroy, too. He'd fit in nicely in that batting order. Could the Brewers snag top prospect Taylor Ward in a deal?
Astros -- Houston has quickly gone from pretender to contender. The Astros have been rumored to be interested in a number of players this offseason as they look to upgrade and stay a playoff team. Yet, Houston hasn't really done much of anything. Certainly, Houston could do better than Jason Castro at catcher, and Lucroy would represent that (plus, Lucroy's salary isn't overbearing for a team like the Astros). However, Houston has zero catching prospects to speak of (none in MLB.com's top 30 from 2015). Yet, if someone knows the Astros, it would be Brewers general manager David Stearns. If there are prospects to be had, he could find them. But Milwaukee likely would still have a hole at catcher for the foreseeable future.
Diamondbacks -- If there is one franchise that has seemingly been all-in this offseason it is Arizona, which signed free agent Zack Greinke and gave up a haul for fellow starting pitcher Shelby Miller. Will Arizona contend? Who knows, but the Diamondbacks obviously are looking at things like they will. The D-backs currently have Wellington Castillo and Tuffy Gosewisch. The former has some pop, but Lucroy is an all-around better player offensively and defensively. The latter is a soon-to-be 33-year-old backup with a career .212 batting average and .285 slugging percentage. Arizona already gave up a ton to get Miller. Would they do the same -- or at least give up reasonably enough -- to snare Lucroy? Catching prospect Stryker Trahan could be worth a flyer in any deal, but any main pieces coming back to the Brewers in a trade with Arizona wouldn't be at catcher (but the Diamondbacks do have some nice pitching to offer up).
Rangers -- It's hard to see where Texas is at right now. The Rangers didn't make any big moves this offseason and are primed to lose Yovani Gallardo. But Texas added Cole Hamels and Josh Hamilton late last season, so maybe there's a playoff run on tap for the Rangers. Would Lucroy help? Certainly. Texas has Robinson Chirinos and Chris Gimenez at catcher. Chirinos has power, but doesn't offer too much else. He could be a stopgap for the Brewers. However, Texas doesn't have much in terms of catching prospects, which could be a hindrance. It could depend on how much Milwaukee likes Chirinos.
Tigers -- Like Boston, Detroit has made some big moves this offseason -- hello Jordan Zimmermann and Justin Upton. Yet, the Tigers' catching situation is James McCann, Bryan Holaday and Jarrod Saltalamacchia. If there is a pennant-chasing team screaming for an upgrade at catcher, it is Detroit. One big issue, however, is that the Tigers don't have a good minor-league system and the Brewers likely couldn't get a good catching prospect.