Plenty of heart: Pinehurst runner-up Compton looks to provide more inspiration at British Open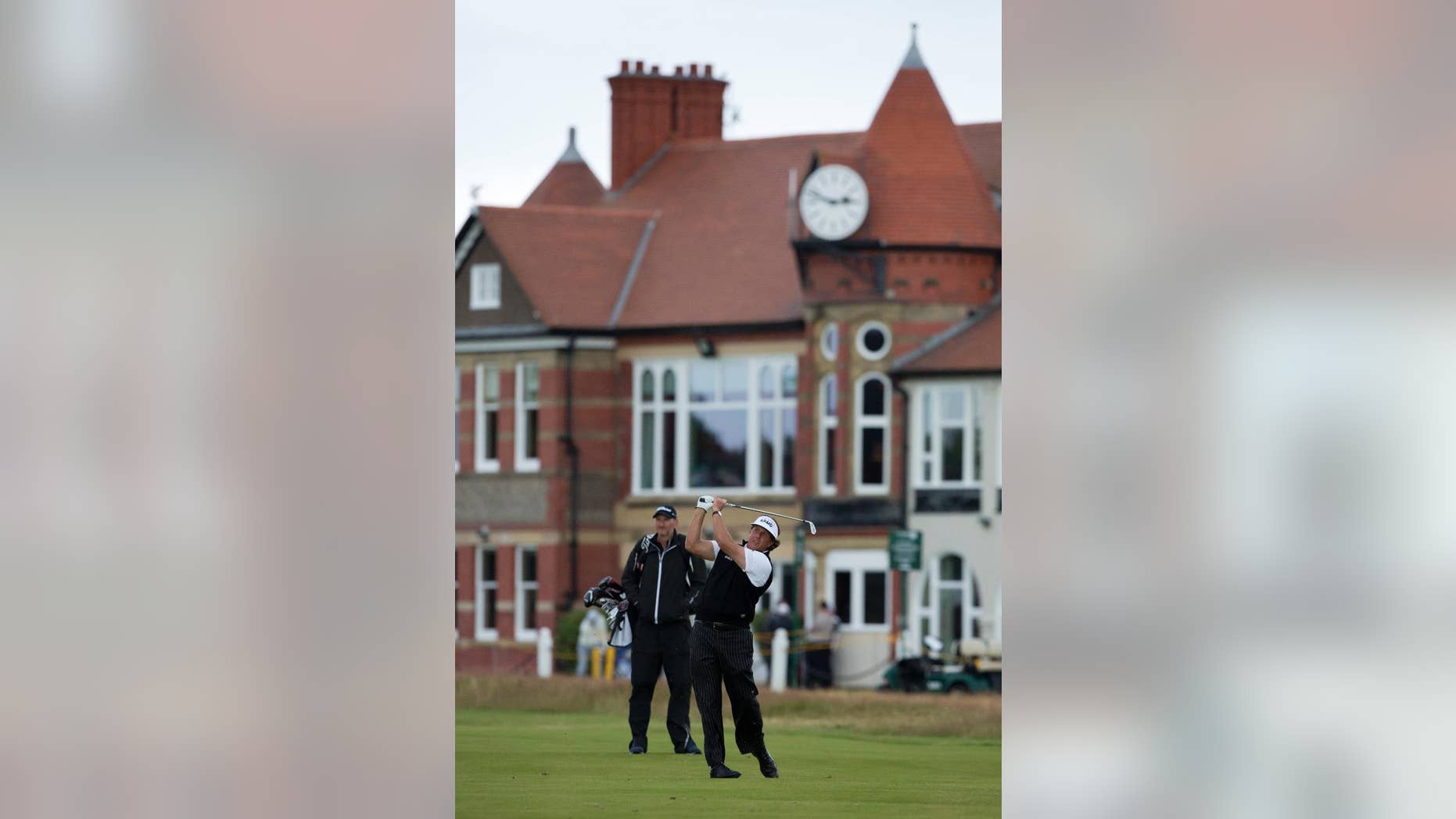 HOYLAKE, England – Erik Compton was chatting outside the clubhouse at Royal Liverpool when Ernie Els strolled up with some disappointing news.
Turns out, the Big Easy won't be able to play a practice round with Compton on Tuesday.
Not to worry.
Els made other arrangements for the following day.
"I've got you the world No. 1," Els said, referring to Adam Scott and breaking into a sly grin. "That OK?"
The offer was fitting. Compton's stature is definitely on the rise since his inspiring performance last month at the U.S. Open, where the two-time heart transplant recipient tied for the runner-up spot behind runaway winner Martin Kaymer.
Arriving for his first British Open, Compton has the relaxed confidence of someone who truly belongs.
"I've played well this year," he said. "It wouldn't be a surprise to me if I played solid."
His amazing story — Compton underwent his first transplant at age 12, another 16 years later after driving himself to the hospital while having a near-fatal heart attack — is not as well known on this side of the Atlantic.
That's OK with Compton, who wants to be recognized more for the way he plays than what he's gone through away from the course.
Still, there will always be those who look at him as that guy on his third heart, and he's grown more and more comfortable with that role as well. Now that Compton has had significant success as a player, there will surely be more opportunities to spread his message of hope, to show the world that a life-threatening condition doesn't have to be a death sentence.
He got a sampling of that on Monday.
During a practice round with three-time British Open champion Nick Faldo and Matt Kuchar, Compton was hardly the center of attention. But on his way to the driving range, he was approached by a woman and her young son, who suffers from a heart condition.
"I picked him up and took a picture with him," the golfer said. "They were excited."
Compton is excited about the state of his game, as well he should be. Ranked 362nd in the world at the end of last year, he's climbed to 74th with by far the best season of his career. In addition to his performance at Pinehurst, he's got two other top-five finishes and nearly $1.7 million in earnings — more than all his other seasons put together.
At 34, he seems to be just hitting his stride.
He can't wait to tackle links golf, especially with temperatures this week expected to be in the 60s and 70s — conditions that are much easier for a transplant recipient to endure than the brutal heat at Pinehurst.
"I think it suits my game," Compton said. "Open golf is about making pars, and I'm good at creating sound pars. Sometimes, you've got to grind it out."
He certainly knows a thing or two about grinding.
After Compton underwent his first transplant, the medication required to make sure his body didn't reject the new heart turned his face into roughly the shape of a pumpkin. The fresh-faced kid who had always been a good athlete — baseball was his first love — became the butt of jokes when he returned to school.
"All of a sudden, I was an athlete inside this body that looked like El Gordo. I had people calling me fatso," he recalled. "It was tough for a kid. I changed schools, kind of changed my identity."
Compton turned his full attention to golf, which turned out to be its own kind of lifesaver. It became his conduit to the University of Georgia, to the kind of life he wanted to live on the PGA Tour. Even after his second heart gave out, he kept plugging away, refusing to give up on his dreams while living with the reality that someday, in all likelihood, this third heart will give out, too.
"I'm not any more special than any other transplant recipient," he said. "If this (heart) lasts longer than the last one, that's great. It will definitely last long enough to play this game until I retire.
"Then," he added, with a bit of gallows humor for a small group of reporters, "you get old. Who wants to be old like you guys anyway?"
Compton is playing in Britain for only the second time, and there are times he sounds very much like a tourist. He looks forward to hitting the pubs, having a beer with the locals, ordering up some fish and chips. He marvels at this quintessential English town, with his sturdy brick buildings and narrow roads, hardly changing at all from one century to the next.
"This town, for us, is like going to Disney World," he said, gazing out beyond the clubhouse. "This is what we see in the movies."
When it comes to the golf, he sounds like an old pro.
In his head, Compton is trying to script another scenario where he's in the mix going to Sunday.
"Major championships are all about feeling comfortable and giving yourself a chance," Compton said. "Then you see what you can do on the last day."
___
Follow Paul Newberry on Twitter at www.twitter.com/pnewberry1963