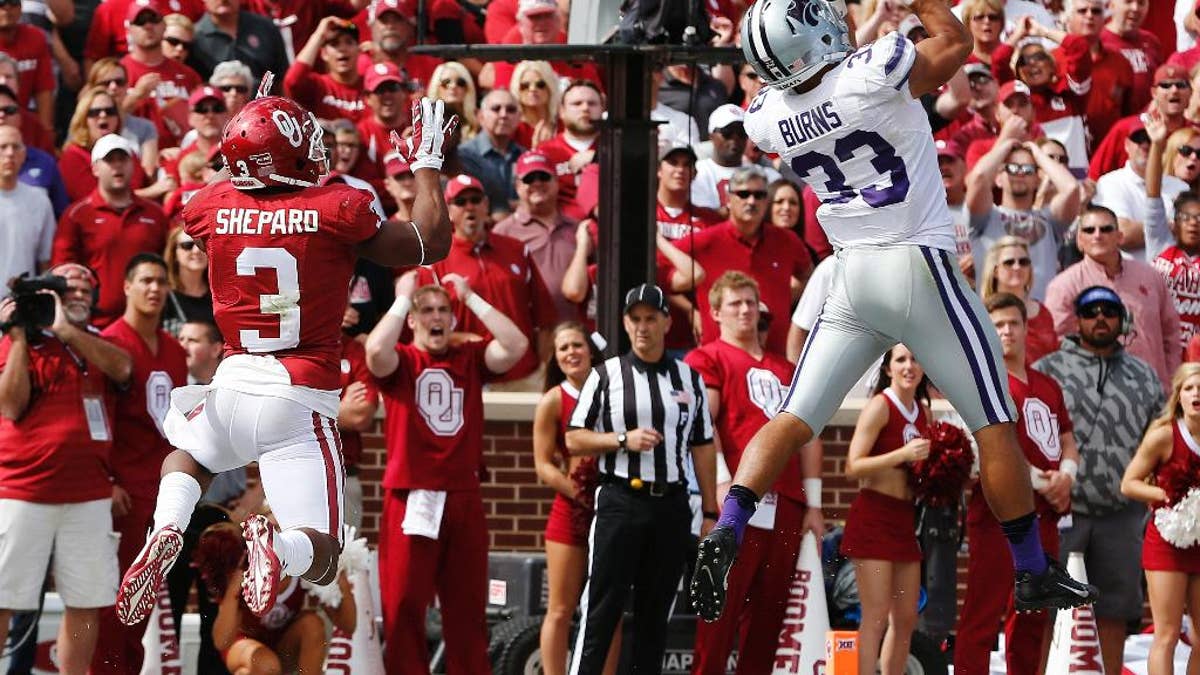 The Southeastern Conference might have a trump card it can use against the Big 12 when it comes time to set the field for the College Football Playoff.
No. 6 Auburn's victory at Kansas State in September is looking a whole lot more valuable after the 14th-ranked Wildcats pretty much eliminated Big 12 preseason favorite Oklahoma from playoff contention on Saturday.
Here's the scenario that could play out: Auburn at 11-1, without a conference championship or Kansas State, with a Big 12 title. Who does the selection committee pick?
The Wildcats lost 20-14 last month at home to Auburn. Kansas State had plenty of blown opportunities in that one, including a potential TD pass that bounced off the chest of top receiver Tyler Lockett and three missed field goals by K-State's Jack Cantele.
There's a long way to go of course, but those are the type of choices Arkansas athletic director and committee chairman Jeff Long and his 12 colleagues on the panel could face.
Have fun with that, and consider this: When the new AP rankings come out on Sunday, the SEC — the SEC West to be specific — could have four of the top five teams in the country in some order: top-ranked Mississippi State, No. 3 Mississippi (which was playing Tennessee later Saturday), Auburn and No. 7 Alabama, which beat Texas A&M 59-0.
Add No. 2 Florida State, which won Saturday's showcase game against No. 5 Notre Dame, 31-27, and there is the top five.
The SEC West still has plenty of time to sort itself out with the two Mississippi schools and two Alabama schools still having to face each other, plus Auburn has to play at Ole Miss and Mississippi State goes to Alabama. But a one-loss team from the strongest division in college football that doesn't even play for a conference title should have a good looking resume.
On Saturday in Norman, Oklahoma, Kansas State (5-1, 3-0) got the benefit of three botched short kicks by Oklahoma's usually reliable Michael Hunnicutt.
"So we were just lucky," 75-year-old K-State coach Bill Snyder said. "That happens."
Add in West Virginia's 41-27 upset of No. 4 Baylor and the Big 12 is now a conference without an undefeated team.
Another check mark in the SEC's column: Alabama beat West Virginia the first week of the season.
___
TRENDING UP:
If you eliminated No. 13 Ohio State after the Buckeyes lost to Virginia Tech in September, it's probably time to reconsider.
The Buckeyes won their fourth straight game, reaching 50 points for the fourth straight time. Ohio State is three weeks away from a possible Big Ten game of the year with No. 8 Michigan State, which beat Indiana 56-17. In between the Buckeyes play at Penn State next week and against Illinois at home.
No. 10 Georgia looks like the class of the SEC East. The Bulldogs are botched series close to the goal line against South Carolina away from being unbeaten after beating Arkansas 45-32. Georgia will also have a say in who wins the West. The Bulldogs play Auburn.
Since No. 9 Oregon lost at home to Arizona two weeks ago, the Ducks have looked practically unstoppable again in wins against UCLA and Washington. The return from injury of offensive tackle Jake Fisher seems to have fixed the Ducks' problems up front.
___
NOT DONE YET:
Can Notre Dame still win a championship?
"We hope so," defensive Sheldon Day said.
Don't worry, Sheldon, you're good.
The Irish have games against No. 17 Arizona State and No. 22 Southern California left on their schedule. Run the table and Notre Dame's case will look as good as just about any one-loss team.
___
ELIMINATED:
Bad day all around for the Sooner state. Oklahoma State got blasted 42-9 by TCU. Toss the Cowboys onto the pile with the Sooners.
___
WHO'S IN IF THE SEASON ENDED TODAY:
Mississippi State, Mississippi, Florida State and Auburn.
___
PROJECTED FINAL FOUR:
Mississippi, Florida State, Oregon and Ohio State.
___
Follow Ralph D. Russo at www.Twitter.com/ralphDrussoAP