Pittsburgh Pirates Resurgence Could Hinge on Pedro Alvarez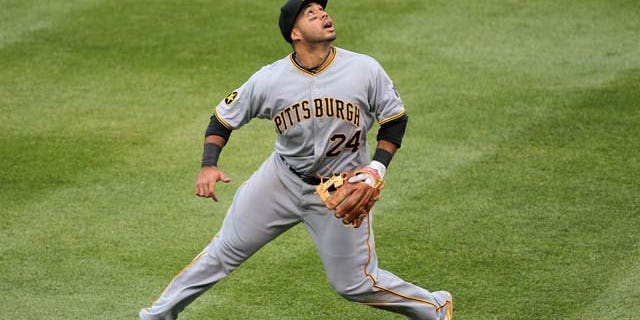 PHILADELPHIA – It was 30 minutes before stretch time for the Pittsburgh Pirates in Philadelphia on a recent night, and Pedro Alvarez and three other players had their eyes glued to a clubhouse television.
Kat Williams was on the screen performing his normally raunchy brand of comedy, drawing a crowd of Pirates and laughs.
It used to be the Pirates, a proud organization that played its last meaningful baseball in October 1992 – think Sid Bream's slide or Barry Bonds in a white, black and gold uniform – who drew mock and sympathetic laughter as the perennial losers of baseball.
Not anymore.
Part of the resurgence is due to Alvarez, who was just a five-year-old kid from Washington Heights the night Atlanta's Francisco Cabrera singled home the slow-footed Bream in Game 7 of the National League Champion Series nearly two decades ago.
Fast forward to 2005, when the Boston Red Sox drafted Alvarez in the 14th round, his favorite team growing up because of another Washington Heights product, Manny Ramírez. But Alvarez decided to go to Vanderbilt instead, leaving him available for Pittsburgh to pick him with the second overall pick in the 2008 draft.
He could have probably played with Ramírez and David Ortiz, another fellow Dominican. And though he thinks about it, Alvarez says that going to Vanderbilt was the best decision at that time.
"It was one of those things, a decision we had to make. Baseball wasn't the proper choice at that point of my life," Alvarez told Fox News Latino. "So I went to school. It was hard. I grew up a Red Sox fan.
"Going to school was the best thing I could have done for myself. I'm just happy it happened the way it did," he added. "It was definitely a tough decision but I'm a big believer that everything happens for a reason. At that point in my life, it wasn't baseball.
Thanks to a group of young players that includes Alvarez, Neil Walker, All-Stars Andrew McCutchen and John Hanrahan – not to mention a pitching staff that ranks seventh in ERA (3.43) in the majors through Sunday and players that they've either acquired in trades or picked up because other teams didn't want them – the Pirates sit in third place, 5 1/2 games behind the first-place Milwaukee Brewers.
They've been the talk of baseball, but Alvarez doesn't think there's pressure on them as they head down the stretch in the last two months of the season.
"We want to win," Alvarez said. "We want to win a World Series.
"The fact that we have some many losing seasons...it may add fuel to the fire but we're a pretty self-motivated team," he added. "We go out there every day trying to win. As for myself, I try to stay away from external pressures. Whatever I can do to get better, that's what I'm gonna do."
The son of Pedro Sr., who quit a good paying job and spent 18 years behind the steering wheel of a cab, traveling all over New York City so that he could be of support to his son, debuted on June 16 last season. He hit .256 with 16 home runs and 64 RBIs, but the power hasn't been there this year. Through Monday, he has hit just .195 with only three homers and 14 RBIs.
A quad injury sent him to the disabled list in May and, while rehabbing the injury, he tweaked his quad back in June and was on the shelf for almost an entire month.
"Naturally we're waiting for him to be able to do what the organization expects of him and that he can develop the talent that he's shown all the time," the elder Alvarez said as his son's team took the field for batting practice.
Alvarez, Jr., is quick to point out that he agreed with the team's decision to leave him in the minors as he got his timing and stroke back. In 18 games with Triple-A Indianapolis, he hit .365 with three home runs and 13 RBIs.
First base coach Luis Silverio, who previously spent three and half decades with Kansas City organization and was a coach for the Royals from 2003-2008, said that Alvarez's play will be key in ending the Pirates drought of 18 losing seasons and hopefully making the playoffs.
"Since he missed a lot of games due to the injury and he wasn't having that great of a season here in the majors, he needed extra at-bats," Silverio said. "It's what the organization decided.
"He needed to spend some extra time as a minor leaguer and find his swing, which he has it but it was important for him to play some extra games in the minors," he added.
So far, he's gone 6 for 33 with a home run and four RBIs since coming back to the Pirates last Monday in Atlanta.
Just as Alvarez appears ready to contribute with some middle-of-the-lineup production, his Pirates have gone on a bit of a nosedive since last week. They split the four-game set against the Braves and got swept in Philadelphia.
The team lost to the Chicago Cubs on Monday night, extending their losing streak to four games.
Alvarez refused to blame the team's recent woes on the controversial call by Jerry Meals in the 19th inning of last week's loss. They eventually lost their next game before leaving Atlanta with a win on Thursday.
The Pirates traded for first baseman Derek Lee and outfielder Ryan Ludwick in trades with the Baltimore Orioles and San Diego Padres, respectively. Lee debuted with two HRs in Monday night's loss.
The Pirates have a big week ahead of them. They face the Cubs and the San Diego Padres, both sub .500 teams, at home.
Beyond this season's goals, the proud history in the Steel City is not lost on Alvarez. It is, after all, the team Hall of Famer Roberto Clemente called home for 18 years before tragically dying in a plane crash in 1972.
"He's the face of a lot of things, not just Latin baseball players. They love him in Pittsburgh, unbelievably. He's just an icon in baseball. He did so much, especially for Latin players," Alvarez said. "He's everywhere in our park. He still has an effect now. It's just a shame that he had to go so soon and couldn't finish his whole baseball career. He was a really special ballplayer but most importantly, he was a special player."
Adry Torres, who has covered MLB, NFL, NBA and NCAA basketball games and related events, is a regular contributor to Fox News Latino. He can be reached at elpiloto137@gmail.com or follow him on Twitter: @adrytorresnyc.
Follow us on twitter.com/foxnewslatino
Like us at facebook.com/foxnewslatino