PHOTO: Patriots congratulate Drew Brees on 400th TD pass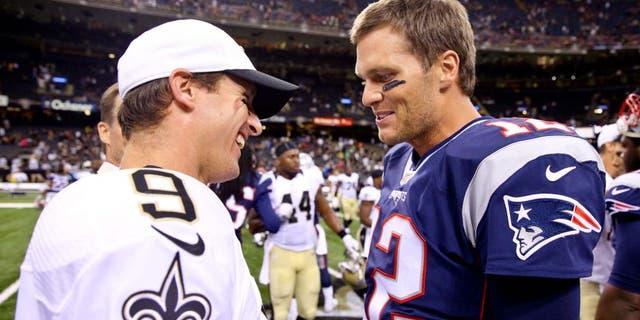 NEWYou can now listen to Fox News articles!
In just over one week, the number of players who have thrown for 400-plus touchdown passes has nearly doubled. First it was Tom Brady joining the elite group, and now it's Drew Brees doing the same.
Brees tossed No. 400 in dramatic fashion in the Saints' walk-off overtime win against the Dallas Cowboys Sunday night. Brees found C.J. Spiller down the sideline for an 80-yard touchdown and the win as he made history and earned the Saints their first victory of the season.
In what was a kind gesture, the Patriots congratulated Brees on Twitter with a photo of him and Brady -- the newest members of the 400 club.
The Saints' Twitter account responded with the hashtags "400TDBros" and "DefendTheWall." Who said opponents can't get along?