Philippines To Have Pacquiao-Rios Fight Beamed To Devastated City Hoping To Lift Spirits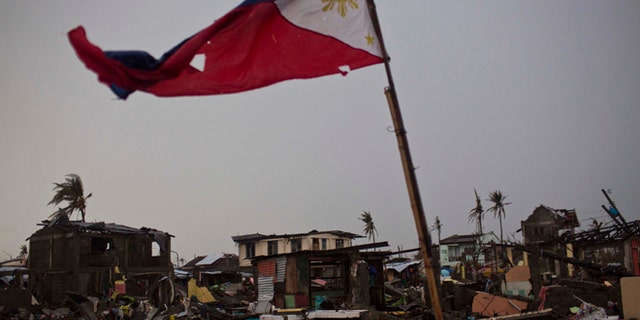 TACLOBAN, Philippines (AP) – Hoping to lift the spirits of thousands of people left homeless by Typhoon Haiyan, cable operators on Saturday set up TV screens inside a sports stadium, near a church and in other landmarks in the devastated region to broadcast Filipino boxing icon Manny Pacquiao's comeback fight.
Officials said that rooting for Pacquaio in Tacloban and other places ravaged by the typhoon two weeks ago would help inspire survivors as they struggle to pick up the pieces in the aftermath of the destruction that killed more than 5,000 people.
Cable inspector Allan Larano said he and other technicians from the country's largest cable provider, Sky Cable, were setting up a screen at the Tacloban stadium, around which displaced people have taken shelter in tents and inside ground-floor shops.
Much hope in the Philippines is pinned on Pacquiao, who is returning to the ring to fight Brandon Rios in Macau on Sunday. It will be his first fight since his knockout loss to Juan Manuel Marquez last year, following a defeat by decision to Timothy Bradley.
Boxing analyst Ronnie Nathanielz said that Pacquiao has always dedicated his fights to the Philippines, but that Sunday's bout "takes on a special significance because of the devastation."
"His impressive performance will lift the spirit of the people, no matter what," Nathanielz said.
Civil defense chief Eduardo del Rosario said that win or lose, Pacquiao's performance is "a very, very welcome opportunity for us to relax and unite as a people."
"At least we will see the Filipino spirit fighting for our country," he said.
In Tacloban, Pacquiao fan Anatolio Cabalida eagerly awaited the fight. "He's my idol," the 70-year-old said.
Dioscoro Balano said he hoped to be able to watch the fight with a neighbor who has a generator.
"If he wins, it will be a big boost to the morale of the typhoon victims," Balano said.
Army Cpl. Joseph Reyes looked forward to Pacquiao's donating some of his winnings to typhoon victims. Reyes is stationed at the seaside Tacloban airport, whose terminal was among the buildings severely damaged by walls of water.
Larano, the cable inspector, said two other cable television teams were preparing smaller TV screens near a church and the Leyte provincial capitol.
Philippine broadcaster GMA television also will install large screens at the Tacloban city hall and at a park, said network Vice President Rikki Escudero.
"We are very excited that at least we are able to provide that service to the people," Escudero said.
Fierce winds and tsunami-like storm surges from the typhoon turned much of Tacloban into a mass of debris. At least 1,700 people were killed in Tacloban, one of the most devastated cities.
Tacloban is still in ruins and without electricity, though some areas have received running water and shops and gas stations have started reopening.
Pacquiao, one of the world's highest-paid athletes, is the wealthiest member of the Philippine Congress. He represents his southern home province of Sarangani, where his wife, Jinkee, is vice governor. His province was not affected by the typhoon.
Pacquiao has promised to bring aid during a visit to the disaster sites after the fight.
Follow us on twitter.com/foxnewslatino
Like us at facebook.com/foxnewslatino