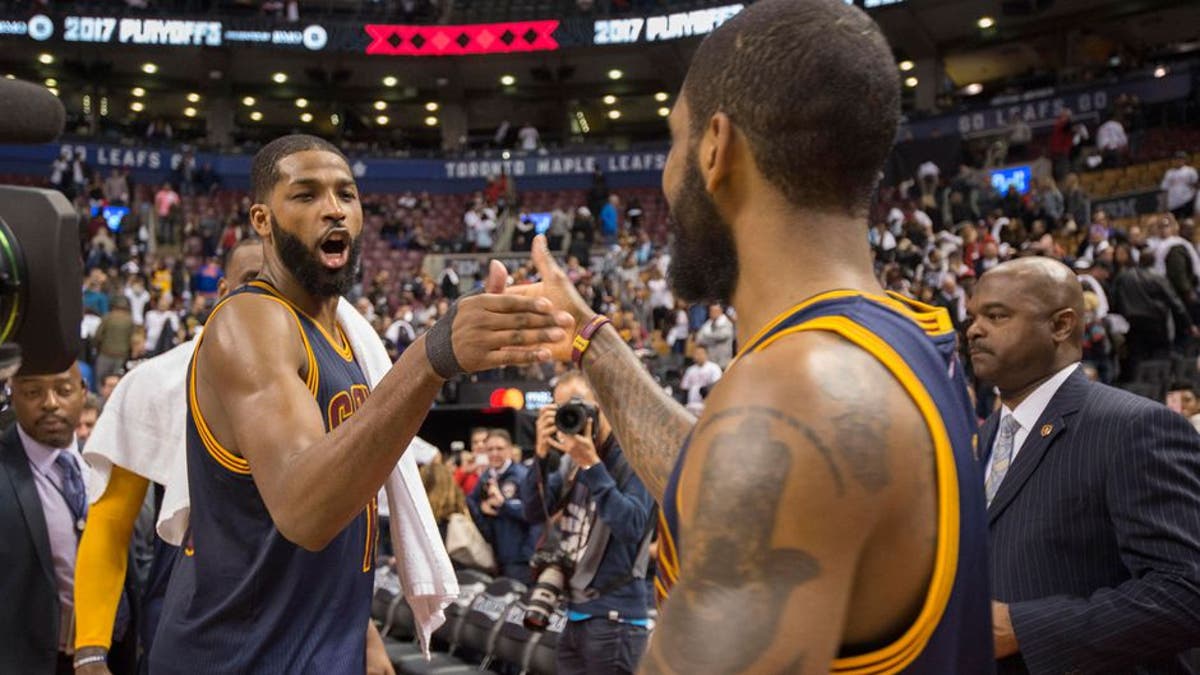 TORONTO (AP) -- LeBron James and the Cavaliers are headed back to a familiar place after sweeping aside another overmatched opponent.
James scored 35 points, Kyrie Irving added 27 and Cleveland swept Toronto, beating the Raptors 109-102 on Sunday to give James his seventh consecutive trip to the Eastern Conference Finals.
"It's rewarding when you can advance," James said. "It's not just given to you, you have to go out and earn it. Once again I'm part of a team that's been able to advance to the Eastern Conference Finals. It's going to be my ninth time in 14 years. I'll take those numbers."
Kyle Korver scored 18 points to help the Cavaliers become the first team to win eight straight playoff games the year following a title, and the first team to win eight straight in consecutive postseasons.
"The fact that we play our best basketball in the postseason lets us know that we're up for the challenge," said James, who had nine rebounds and six assists.
Channing Frye scored 10 points, and Irving had nine assists for Cleveland. The Cavs were 16 for 41 from 3-point range.
"When LeBron is shooting the 3 ball the way he is, at the rate he's shooting it, they're difficult," Toronto coach Dwane Casey said. "It's gong to take a Herculean effort to beat them."
The Cavs finished off the Raptors about an hour before Game 4 between the Celtics and Wizards tipped off in Washington.
That series won't end until Wednesday night at the earliest, and could run until Monday night, meaning the Cavaliers will have plenty of time to rest before the Eastern Conference Finals.
Asked to choose between the Celtics and Wizards, James claimed not to have a preferred opponent.
"It doesn't matter to me," he said. "I'm excited about us getting an opportunity to represent our franchise in the Eastern Conference Finals to go play for the big one."
Serge Ibaka scored 23 points, and DeMar DeRozan had 22 for Toronto. The Raptors took their first fourth-quarter lead of the series but couldn't avoid their fourth straight loss.
"We needed that, we needed to be tested throughout 48-minute games," Irving said. "One of the hardest things to do is sweep teams. We understand how important it is to come in and get a win and get rest."
Making his second start in place of injured point guard Kyle Lowry, Cory Joseph had 20 points and 12 assists for Toronto, which lost in six games against Cleveland last year in the Conference Finals. P.J Tucker had 14 points and 12 assists in his first career playoff start.
A 3 by Toronto's Fred Van Vleet cut it to 87-86 at 9:51 of the fourth, but James answered with a 3. Toronto kept it close, and took a 93-92 lead when Ibaka converted a three-point play with 6:38 left.
Irving responded with a 3 and, following a missed shot by DeRozan, added a pair of free throws to put Cleveland up 97-92 at 5:54. After a basket by Cory Joseph, Irving added two more free throws and a layup, scoring all of Cleveland's points in an 11-2 run that gave the Cavs a 103-95 edge with 4:00 remaining.
"We needed that spark," James said. "We just wanted to try to get defensive stops while he was in the zone and we were able to do that."
Toronto posted back-to-back 50-win seasons for the first time in franchise history and reached the playoffs for the fourth straight year. Beefed-up by late-season deals for Ibaka and Tucker, Toronto expected to push Cleveland a little harder this year, but showed they still couldn't handle the Cavs.
"It's on us to let this sink in and understand we gotta come back better, individual and team-wise," DeRozan said.
Casey tried to preach the positives, but acknowledged that his team's performance hadn't been good enough.
"It feels bad, it was ugly, but it shouldn't diminish the excellent regular season we had," Casey said.
TIP-INS
Cavaliers: Cleveland has swept its opponent all nine times it has taken a 3-0 series lead. … Korver's career high for points in a quarter is 17.
Raptors: Toronto shot 10 for 29 from 3-point range. … The Raptors used a different starting lineup in all four games. … DeRozan's eight assists were a career playoff-high.
ANKLED
Lowry sprained his left ankle in the third quarter of Game 2, and aggravated the injury while trying to warm up for Friday's Game 3. He was not active Sunday.
BELOW THE BELT BLOW
Following a replay review, Cleveland's Iman Shumpert was called for a technical foul in the second after he kneed DeRozan in the groin area while going up for a jump shot, an incident that left DeRozan lying on the court in pain.