Pelicans drop game in LA to Lakers 108-96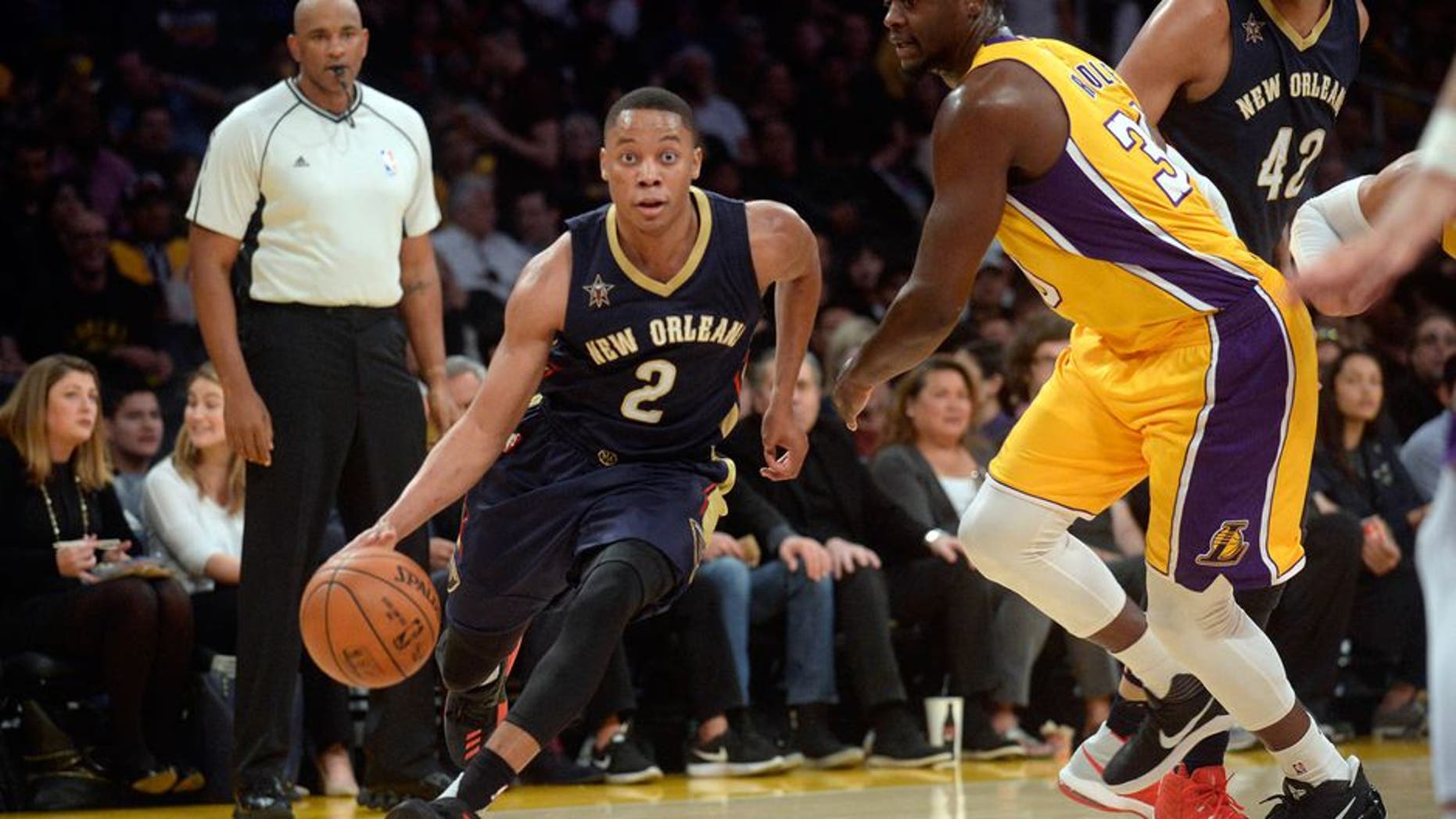 LOS ANGELES (AP) -- Metta World Peace scored a team-leading 18 points during what might have been his final home game for the Lakers, and Los Angeles extended its late-season winning streak to five games with a 108-96 victory over the New Orleans Pelicans on Tuesday night.
World Peace made his 840th career NBA start and hit four 3-pointers while scoring all of his points in the second half, thrilling his younger teammates and setting off chants of his name from the Staples Center crowd.
Although he hasn't announced his retirement, the 37-year-old veteran of 17 NBA seasons got several standing ovations down the stretch.
Cheick Diallo scored 19 points for the Pelicans, who lost their fifth straight while playing without big men Anthony Davis and DeMarcus Cousins.
Davis sat for a second straight game with a sore left knee, and Cousins missed his third straight game with heel tendinitis.
Brandon Ingram and Jordan Clarkson had 15 points apiece for the Lakers (26-55), whose late-season surge has pushed them past Phoenix in the overall NBA standings and left them assured of finishing with the league's third-worst record.
If the pingpong balls don't give Los Angeles one of the top three picks in the draft lottery on May 16, the Lakers will lose their first-round selection to Philadelphia under the terms of their trade for Steve Nash five years ago. If they lose this pick, they'll also lose their 2019 first-round pick to Orlando.
TIP-INS
Pelicans: Cousins and Davis watched the game from New Orleans' bench.
Lakers: They played without D'Angelo Russell, who went home to Louisville. Russell played a few hours after his grandmother's death on Sunday and hit the winning 3-pointer at the buzzer. … Staples Center was crawling with legendary big men. Kareem Abdul-Jabbar got a standing ovation ahead of his 70th birthday on Sunday. Bill Walton watched his son from courtside in a purple Lakers T-shirt, and Bill Russell also caught the game in a courtside seat.
WORLD PEACE OUT?
World Peace still wants to play basketball somewhere next season. But if the game turns out to be his farewell to Staples Center, the Lakers' fans sent him off with one more helping of love for the last on-court link to the Lakers' last good teams.
While World Peace didn't quite match Kobe Bryant's 60-point finale last year, the former Ron Artest got his usual wild ovations in pregame introductions and again whenever he did anything interesting. He didn't score in the first half, but got his 1,716th and 1,717th career steals to move past Ron Harper for 22nd place in NBA history.
World Peace hit a 3-pointer in the third quarter and added a 15-footer moments later. He added three more 3-pointers in the fourth quarter.
But when he had the ball in his hands and the crowd on its feet on the Lakers' final possession, he stood on the perimeter and allowed the shot clock to run out.
World Peace joined the Lakers in 2009 and immediately played a major role on their 16th NBA championship team, hitting a 3-pointer that turned out to be the last field goal in Game 7 of the 2010 NBA Finals against Boston.
World Peace changed his name in 2011 and stayed with the Lakers until 2013. He spent the next two years in New York, China and Italy before rejoining the Lakers in 2015.
He surprisingly made the Lakers' roster again this season to serve as a veteran mentor and mature presence in the locker room -- an assignment that would have been shocking to anyone who only knew him as the hard-nosed defensive specialist who got the longest suspension in NBA history for brawling in the stands at a Pacers-Pistons game in November 2004.
"I didn't think I would last this long," World Peace said before the game.
UP NEXT
Pelicans: At Trail Blazers on Wednesday in their season finale.
Lakers: At Warriors on Wednesday for their season finale.