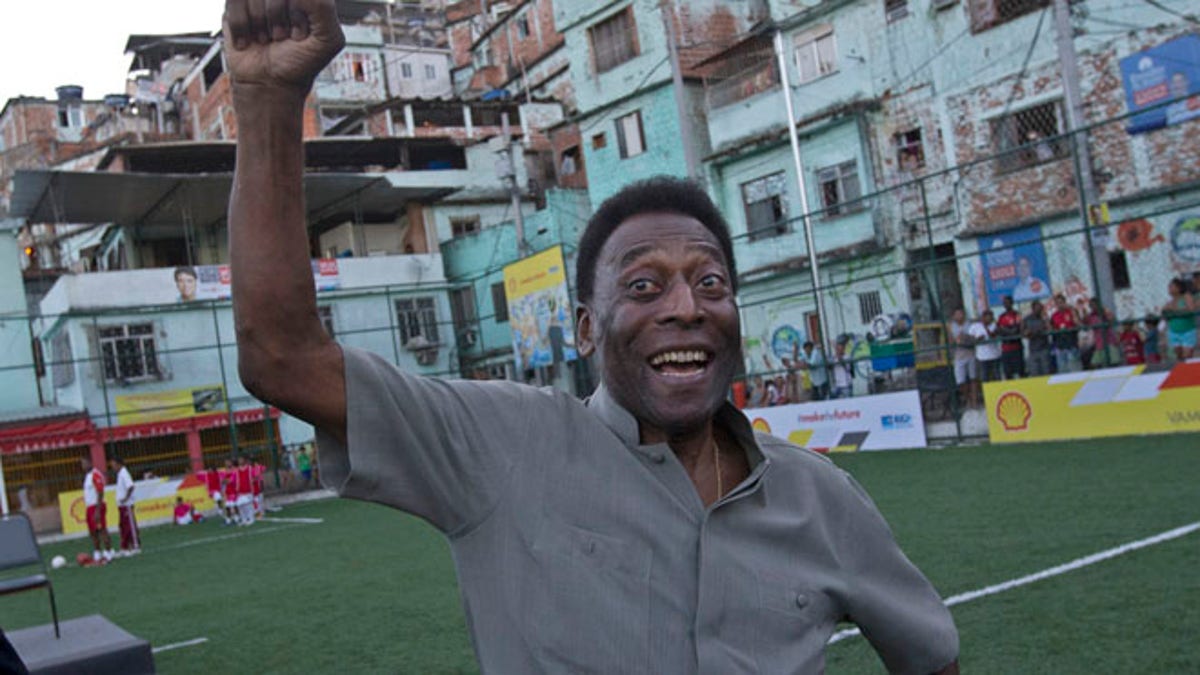 SAO PAULO – Brazilian great Pele says he is not seriously ill, easing fears Thursday that his health deteriorated even though a hospital said he was in intensive care and undergoing renal support treatment.
The 74-year-old Pele used his official Twitter account to deny widespread reports that said his condition worsened and that he was put in intensive care to treat a urinary tract infection.
"I want to take this opportunity to let you know that I am doing fine," he said. "I was not put into intensive care today, I was simply relocated to a special room within the hospital for privacy purposes only."
Pele had an operation to remove kidney stones on Nov. 13, but he was readmitted to the hospital on Monday after being diagnosed with the infection. The three-time World Cup winner has remained in the hospital since.
"I am blessed to receive your love and support, and thank God this is nothing serious," he said. "I am looking forward to spending the upcoming holidays with my family, and will start the new year with renewed health, with many international trips already planned! Thank you!"
Pele's manager had already said that the former player was expected to make a "quick and full" recovery from the "minor" infection.
Paul Kemsley said in a statement sent to The Associated Press that reports about the deterioration of Pele's condition and about him going into intensive care "were greatly exaggerated."
"He was relocated to a special area of the hospital for privacy purposes only, due to having an overwhelming number of visitors which prevented him from getting the necessary care and treatment," Kemsley said.
The Albert Einstein hospital released a statement earlier in the day saying Pele was transferred to a "special care" unit after his condition became unstable. The statement created a scare in Brazil, with local media widely reporting that Pele's condition had deteriorated.
Jose Fornos Rodrigues, Pele's spokesman and personal aide, told the AP that Pele "is fine," also saying that the move within the hospital was because "he was receiving too many visitors and that wasn't helping, so they transferred him to a calmer area."
"He should be out of the hospital in a few days," he said.
The hospital later released another statement saying that Pele's condition "improved," but for the first time mentioned that he was in "an intensive care unit" and temporarily undergoing renal support treatment. The hospital's press office did not confirm whether the treatment meant dialysis.
The hospital's press office had previously denied that Pele was in intensive care. Pele's tweets and Kemsley's statement about Pele's condition came after the hospital's latest report.
"Pele plans to spend the upcoming holidays with his family, and in the new year, he will recommence his busy worldwide schedule," Kemsley said. "Trips to Australia, China, Nigeria and Azerbaijan are already confirmed for the early part of 2015."
Pele has enjoyed good health in recent years despite needing to undergo surgeries for a hip replacement and a detached retina.
Widely known as the greatest footballer of all time, Pele is a national hero in Brazil. He remains a worldwide ambassador to football and is active with his many businesses across the globe. He still participates in many advertising campaigns and is present at most major football tournaments.
He won the World Cup with Brazil in 1958, '62 and 1970 and is known as the game's most prolific scorer, credited with 1,281 goals in 1,363 career matches.