Paul Menard plans Brickyard tribute with Indy finish line in driveway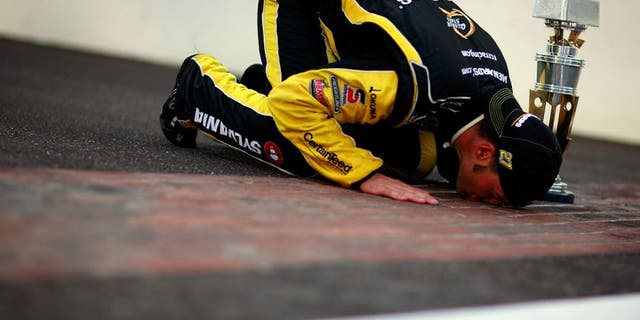 NEWYou can now listen to Fox News articles!
Paul Menard loves Indianapolis Motor Speedway so much, he has some big plans for the driveway of his future home.
"I have to get a picture of the yard of bricks because I'm going to build a house here in the next few years and I want to put a yard of bricks in my driveway," Menard said Tuesday during testing at Indy. "I have to get the specs of it right and how many bricks it is specifically to make it right."
Menard is the 2011 Brickyard 400 champion – the lone NASCAR Sprint Cup Series win of his career.
His family has a long storied history at IMS, as Menard's father, John Menard Jr., is also a former IndyCar owner.
Tony Stewart, racing in his final Brickyard 400 on July 24, raced for Team Menard from 1996 to 1998, in what was then known as the Indy Racing League.
Stewart won the 1997 IRL championship while racing for the organization.
"Tony has won championships in anything he's every touched," Menard said when asked about Stewart racing for the final time at Indy. "I was as happy as anyone that he won at Sonoma. For him to get a win and more than likely get into the Chase in his final year ... I'm really happy for him."
"We've had ups-and-downs for sure," he added. "I'm sure everyone in the garage has either seen a mad Tony yelling at them or have been mad at him themselves. He's a tough competitor, but what you see is what you get with the guy. He doesn't pull any punches and is a true throwback racer."