Paul George reportedly tells Pacers he will leave franchise, prefers to join Lakers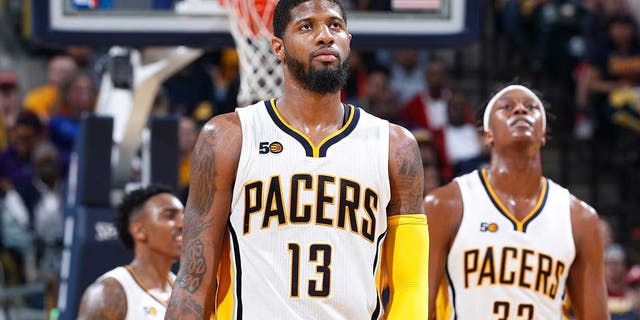 NEWYou can now listen to Fox News articles!
The Indiana Pacers apparently have been put on notice by franchise star Paul George, who told the team he plans to leave next summer and hopes to join the Los Angeles Lakers, The Vertical reported Sunday.
According to the report, Georges agent informed Pacers president of basketball operations Kevin Pritchard of his clients intentions. George, who can opt out of his contract next summer, could sign a four-year max contract for as much as $130 million with the Lakers before the 2018-19 season.
George reportedly plans to play next season with the Pacers but wanted to inform the only franchise hes played for of his intentions to give the team a chance to plan for its future. A four-time All-Star, the 27-year-old Southern California native is considered one of the games best two-way players and would be the cornerstone of the Lakers plans to rebuild.
But if George does leave the Pacers, it will be a costly financial decision. Indiana can offer him a five-year, $177 million extension as opposed to the four-year deal the Lakers are permitted to offer, but off-court endorsements could offset much of that difference.
George averaged 23.7 points, 6.6 rebounds and 3.3 assists last season, helping the Pacers reach the playoffs, where they were swept by the Cavs in the first round.