Patriots owner: Raiders in Las Vegas would be 'good for the NFL'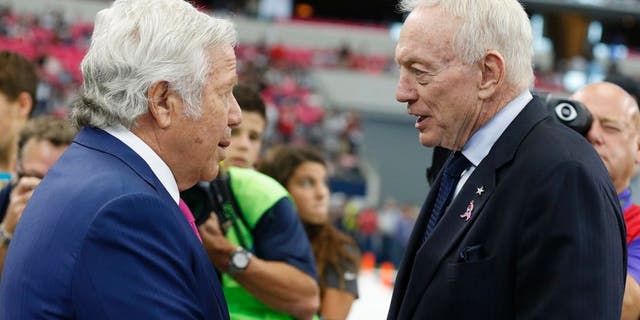 If the Oakland Raiders someday become the Las Vegas Raiders, it's going to take a minimum of 24 of the NFL's 32 ownership groups approving a relocation. As of Friday, we can name at least two owners who seem to support the idea.
According to New England Patriots owner Robert Kraft, who was one of the driving forces behind the NFL's return to Los Angeles, the Raiders moving to Vegas is more than just a tolerable consideration -- it would in fact be a positive for the league.
Kraft joins Dallas Cowboys owner Jerry Jones, who earlier this month told reporters that the entertainment aspects of Las Vegas outweigh any possible concerns about gambling. As Kraft pointed out on Friday, many of those gaming problems have become global concerns in today's technologically advanced times.
Atlanta Falcons owner Arthur Blank has also spoken publicly on the issue. While Blank isn't as eager as Jones and Kraft, he did claim that the league could successfully isolate a team in Vegas from the gambling industry. For Blank, the larger concern is whether the greater Vegas metropolitan area could support an NFL team.
On the other side of the ledger, an anonymous owner recently told the New York Daily News that though the idea of a football team in Las Vegas isn't "impossible," this owner's preference would be for the NFL to avoid the Nevada desert.
Raiders owner Mark Davis has pledged $500 million to a potential stadium in Vegas, and Las Vegas mayor Carolyn Goodman has expressed extreme optimism that the team will end up in Las Vegas.