Parise anticipating return to action Saturday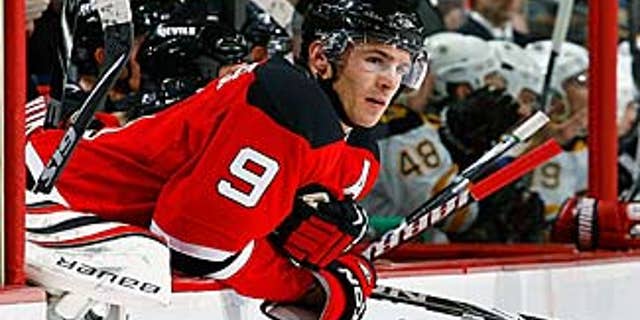 NEWARK, N.J. -- Zach Parise has had to sit and watch his New Jersey Devils teammates play the past 64 games without him. He's ready to return from a knee injury, but he's got one more night of sitting and watching left.
Parise said he is "ready to go" Saturday for the Devils against the Montreal Canadiens. There is still the matter of New Jersey's game Friday night at Prudential Center against the Eastern Conference-leading Philadelphia Flyers.
"Yeah, it definitely will be [odd]," Parise said after being the last one off the ice at the Devils' morning skate Friday. "I'll probably be thinking the whole game about being excited for tomorrow. Just kind of getting myself mentally prepared tonight for tomorrow's game and just kind of watching different things -- different system things positionally. What the guys are doing now is a little different than what I was doing before."
Parise was New Jersey's leader in points the previous three seasons and in goals for the past four campaigns, but left a game Oct. 30 in Los Angeles after a second-period collision with Kings' forward Kyle Clifford and had surgery to repair a torn meniscus in his knee a few days later.
While the Devils are on the brink of being eliminated from postseason contention, Parise has remained steadfast about returning to the lineup before the end of the season. He has already stated he won't play for the United States in the forthcoming World Championships -- in part because of the injury and in part because he is a restricted free agent in July -- but getting back before the end of this season was important to him.
"Just for my own piece of mind -- I'd rather have that first game this year than waiting until next season," Parise said. "Ten or 11 months without playing a game would have been a long time. Whether it is five games or two games, I'd rather play a couple before the summer starts."
Earlier in the season, Parise played on a line with Travis Zajac and Ilya Kovlachuk, with the latter moving from his natural spot on the left wing to the right side. Jacques Lemaire, who has since replaced John MacLean as the team's coach, has said Parise and Kovalchuk will both stay at left wing and play on different lines.
Parise said he doesn't expect to be limited in any way in his first game back.
"I'm not expecting 20 [minutes] or anything, but I know I'm capable of playing a regular shift and power play. We'll see -- I don't know how [Lemaire] wants to run it, but we'll see tomorrow.
"I already kind of am [nervous]. I definitely will be. It is kind of like the first game of the year type of thing all over again. Yeah, a little nervous for sure."