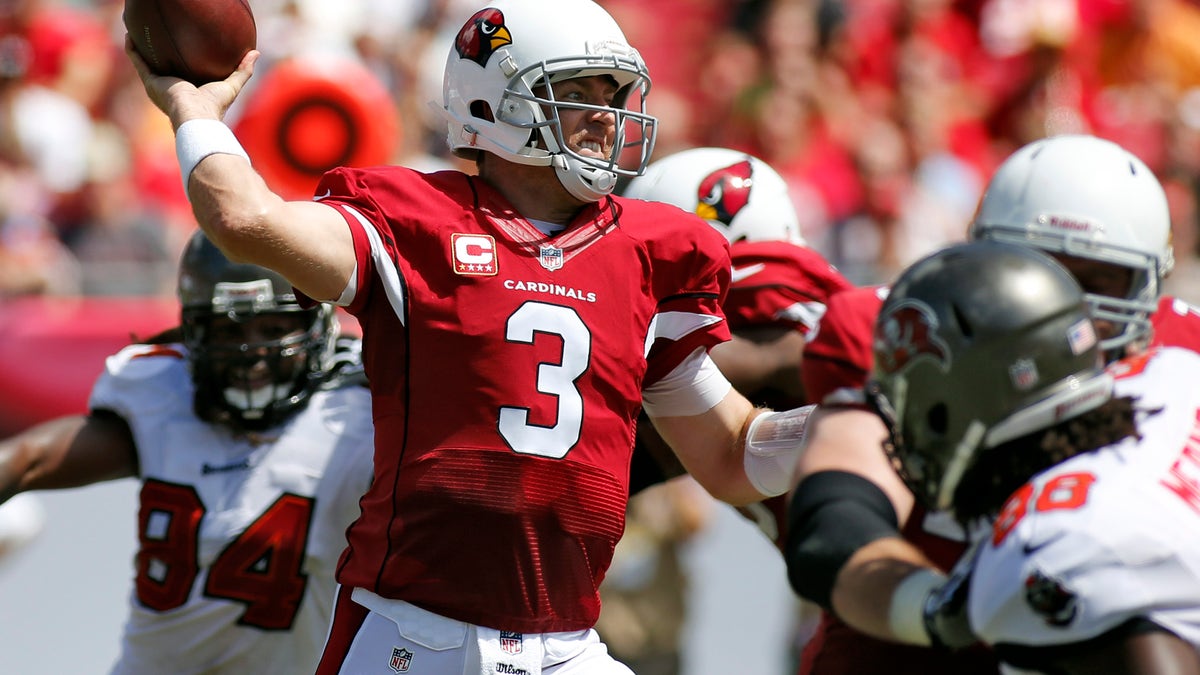 TEMPE, Ariz. – Carson Palmer has said that the offensive system of Arizona coach Bruce Arians is the most difficult he's encountered in his long career.
Four games into the season, it shows.
The Cardinals are sputtering on offense and while the quarterback always gets the brunt of the criticism when that happens, the Cardinals say there's plenty of blame to go around.
The 33-year-old quarterback, acquired from Oakland in the offseason, has completed 57 percent of his passes for 1,010 yards with only four touchdowns and six interceptions.
But it's the whole offense, not just Palmer.
Arizona ranks 18th in the league in passing, 26th in rushing and 27th in total offense.
After a promising start in a season-opening loss at St. Louis, the offense seems to have regressed. The Cardinals were scoreless for six consecutive quarters before rallying in the fourth quarter last Sunday to win at Tampa Bay 13-10.
After the latest performance, Arians called the offense "putrid" and said he'd never had a team take so long to learn his system.
The Cardinals have been especially inept on third downs, converting on just 1 of 10 tries against the Buccaneers.
"It hasn't been one issue, it's not been one problem," Palmer said. "It's something that we came in and spent a lot of time on Monday looking at it. Guys spent some time digging deep, looking at themselves."
Wide receiver Andre Roberts says there have been issues everywhere.
"'It's the whole offense," Roberts said. "He's (Palmer) not played well at times, receivers have not played as well at times, the offensive line, running backs. It's a team effort. Especially on offense, you've got to have all 11 guys on the same page."
Larry Fitzgerald agreed.
"Everybody has to do their part to make it go," he said. "The better routes we're running, the better we're executing our assignments, the easier it's going to make his job."
Sometimes players seem uncertain where they are supposed to line up.
"At times there's moments where there's a little bit of confusion," Fitzgerald said, "but I think guys overall are getting better at digesting things that are going on and this week hopefully we'll be a lot sharper. We're going to do some things to make it a little easier for guys to go out there and play fast."
Fitzgerald said there are "a lot of nuances" to the offense, but if it's done properly, "it's pretty invincible.'
"We're trying to get to the point where it's second nature," he said. "It's like just playing ball with your buddy in the backyard."
Palmer has been sacked 10 times and been hit or hurried many more.
"He has gotten hit way too much when he obviously is not supposed to be getting hit, so that affects all quarterbacks, I don't care who they are," Arians said. "I've never been around one that liked to be hit."
Now Palmer must operate with a largely untested left tackle. This week, Arizona traded Levi Brown to Pittsburgh and gave the job to Bradley Sowell, a second-year pro who went undrafted a year ago but played in 10 games last season for Indianapolis, where Arians was offensive coordinator, then interim head coach.
Against the talented front seven of Carolina on Sunday, Sowell will make his first NFL start.
An ineffective running game has hampered the passing game.
Last week, Rashard Mendenhall managed just 21 yards in 12 carries after a toe injury prevented him from practicing much of the previous week. If Mendenhall continues to struggle, Arians may go more and more with rookie Andre Ellington, who had 29 yards in four attempts in Tampa.
Palmer was critical of his own play thus far.
"Got to play better," he said. "You always want to play better no matter what your passer rating is or how many yards you throw for. ... I expect myself and the players around me to be much more successful this week."
Arians has held back on criticizing Palmer, even going so far this week as to say the quarterback had been "outstanding."
Palmer certainly was on a 13-yard touchdown pass to Fitzgerald that tied the game against Tampa Bay in the fourth quarter Sunday.
But there haven't been enough such moments. Credit the Arizona defense for the team's 2-2 record.
"Our offense is still stretching to find its identity," Arians said. "We knew that going into September. Some of the excuses are over now since it isn't September anymore.
"But way back I said we'd win on special teams and defense as our offense grew. It's time for our offense to grow and show up."
___
AP NFL website: www.pro32.ap.org
___
Follow Bob Baum at www.twitter.com/Thebaumerphx