Pain in the butt turns Lakers rookie into crumpled heap on court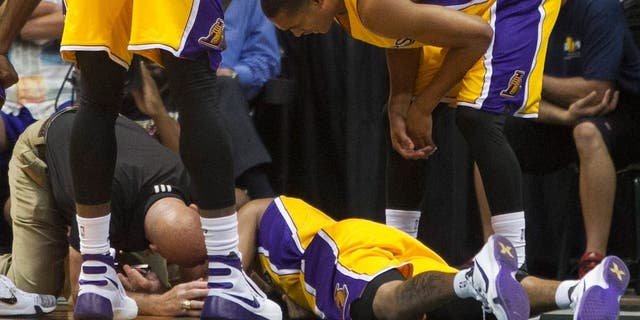 NEWYou can now listen to Fox News articles!
Los Angeles Lakers rookie point guard D'Angelo Russell left their exhibition game against Utah in the first quarter Tuesday night with a bruised glute muscle.
Russell, the second overall pick from Ohio State, went down in the paint with 7:42 left in the quarter after stepping in front of Rudy Gobert as Utah's center went to the basket.
Russell was called for a foul on the play and remained face down on the court for about a minute before being helped off the court by team personnel. He was taken to the locker room and did not return.
The Lakers lost the game 117-114, though Kobe Bryant scored 13 points on 5-of-9 shooting in just under 21 minutes of action. Bryant played 12 minutes and had five points in Sunday's preseason opener.
Russell scored five points in his debut Sunday.
Last season, Lakers rookie and No. 7 overall pick Julius Randle suffered a broken leg in the second quarter of the season opener and was lost for the season.
The game Tuesday also featured a brief shoving match between Lakers big man Roy Hibbert and Utah forward Tervor Booker. The pair got in each other's faces at the 7:14 mark of the third quarter after Randle drew a personal foul on the defensive end of the floor. Booker then took an open-handed swing at Hibbert. Replays appeared to show that he did make contact with Hibbert's face. Booker was assessed two technical fouls and was consequently sent to the locker room. Hibbert also drew a technical foul.