Padres whittling down options in search for new shortstop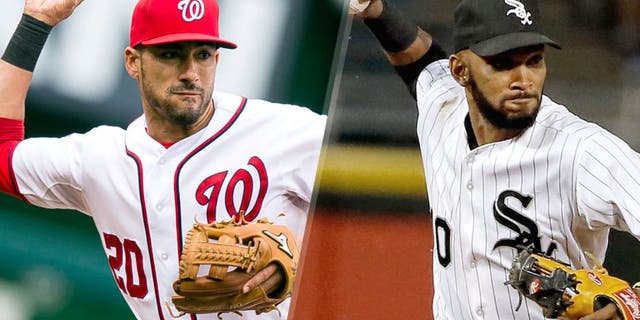 NEWYou can now listen to Fox News articles!
The San Diego Padres are getting closer to putting an end to their carousel at shortstop.
Padres general manager A.J. Preller tells MLB.com that he has narrowed down the list of candidates to take over the Padres' No. 6 position.
"I think we're still trying to make our way through our shorter list of guys we feel are good fits," Preller said. "Hopefully, we'll have a match."
San Diego has been linked to free agents Ian Desmond and Alexei Ramirez, both above-average fielders with speed and power.
Both are also coming off subpar seasons in their contract years (Desmond: 19 HR, 62 RBI, 13 SB .233/.290/.384; Ramirez: 10 HR, 62 RBI, 17 SB, .249/.285/.357), which might allow their future team to sign them at a bargain price.
"I think in an ideal world, you want someone who is an intelligent player, a leader and captain of your infield, the ability to make the plays on the move, on the run, up the middle, in the hole," Preller said of his expectations for a shortstop. "Someone, when the ball is hit to him late in the game, it's an out.
"Big game, big spot, big moment, [someone] you're not worried the routine play is going to be made. He has the athleticism to make a spectacular play."
New Padres manager Andy Green is eager for the front office to acquire a better shortstop -- mainly for defensive purposes.
"We clearly have to plug that hole at shortstop. We're working actively to do that. I'm a defense-oriented guy. I'm a pressure-on-the-defense guy," Green recently said. "The defense is paramount for us to be successful."