Packers receivers taking on expanded role in backfield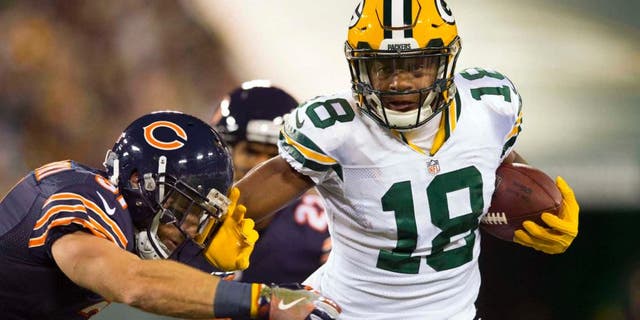 GREEN BAY, Wis. -- Get used to seeing wide receivers in the backfield for the Green Bay Packers, at least while they wait for their injured running backs to return.
The Packers already used the look at times as a wrinkle with Randall Cobb and Ty Montgomery. They leaned on the scheme heavily in the 26-10 win on Thursday night over the Chicago Bears.
It could be an offensive staple when the Packers next play on Oct. 30 against Atlanta.
"You try to create opportunities and have a vision and build a plan based off of your availability of your players week in and week out," coach Mike McCarthy said Friday.
Montgomery and Cobb are versatile pass catchers. They were willing to take on extra responsibilities, with Green Bay's offense having a productive night in its first game without injured running back Eddie Lacy. Montgomery took most of the Packers' 81 snaps, a season high, at running back.
"I didn't have that many plays in the backfield since, like, eighth grade, I think," Montgomery said with a laugh after the game. "But it was a lot of fun, though."
Montgomery had nine carries for a team-high 60 yards, highlighted by a 30-yard run early in the third quarter that started a 13-play, 85-yard touchdown drive to regain the lead at 13-10.
Montgomery also tied a career-high with 10 catches for 66 yards, joining Davante Adams and Cobb in double figures for receptions as Aaron Rodgers set a single-game franchise record with 39 completions.
As the play-caller, McCarthy took responsibility for not giving Cobb a carry out of the backfield in the loss to the Cowboys on Sunday. McCarthy said the plan was to have Cobb get four or five carries in that game.
On Thursday, Cobb ranked second on the team with five carries for 21 yards. He also tied a career high with 11 catches for 95 yards and a touchdown as Rodgers relied on quick, short passing.
"Guys were really stepping up and filling positions where we just didn't have anybody left," offensive tackle Bryan Bulaga said. "They were making big plays."
Lacy is on injured reserve and must sit out at least eight weeks because of an ankle injury. James Starks is sidelined indefinitely after knee surgery last weekend.
That left the Packers with two newcomers at running back Thursday: undrafted rookie Don Jackson and fourth-year pro Knile Davis, who was acquired in a trade with the Kansas City Chiefs this week.
Jackson had only two carries for 6 yards before leaving with a hand injury in the second quarter. His status for the Falcons game is uncertain. Davis, who had a kickoff return, didn't enter the game on offense until the second half and had only two carries for a yard.
If he's needed as a running back again, Montgomery will be ready.
"I'm a football player, and as a football player, I can do anything that's asked of me," he said.