Packers keep opponents guessing when it comes to Matthews' position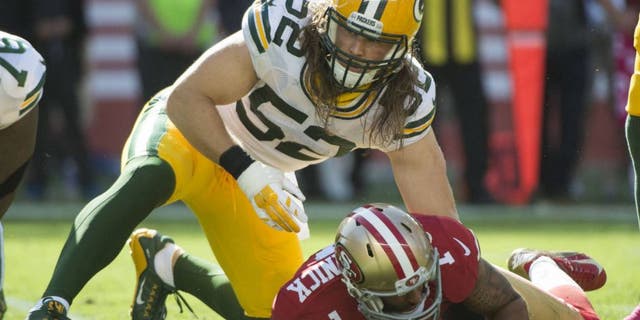 NEWYou can now listen to Fox News articles!
Clay Mathews is a part-time outside linebacker, part-time inside linebacker and full-time playmaker for the Green Bay Packers on defense.
After playing the majority of his seven-year career as an edge-rushing outside linebacker in Green Bay's 3-4 defense, Matthews has gotten more familiar with the inside linebacker position since last season. He has played both positions this season and excelled.
Packers defensive coordinator Dom Capers, who has coached the All-Pro linebacker for his entire NFL career, says Matthews' versatility makes Green Bay's defense more flexible, via ESPN's Rob Demovsky:
I've always felt he'd be a Pro Bowl outside or Pro Bowl inside linebacker. But to be able to go back and forth helps the flexibility of your defense. As you guys know against the Seahawks, he was inside the whole time and probably rushed the fewest number of times that he has since he's been with us, but that was out of necessity. Our job is to figure out what it's going to take to go win a game each and every week based on who's available.
In a Week 2 win over the Seattle Seahawks, Matthews lined up inside almost exclusively. Last week, against the San Francisco 49ers, he was lined up outside for about half of his 50 defensive snaps.
"You're just trying to make the most whenever you're name is called to create pressure on the quarterback," Matthews said, per ESPN.
Matthews' ever-adapting role is making the Packers tougher on defense and a better team overall.
MORE NEWS: Want stories delivered to you? Sign up for our NFL newsletters.