Ovi-Stamkos rivalry gets big shot at developing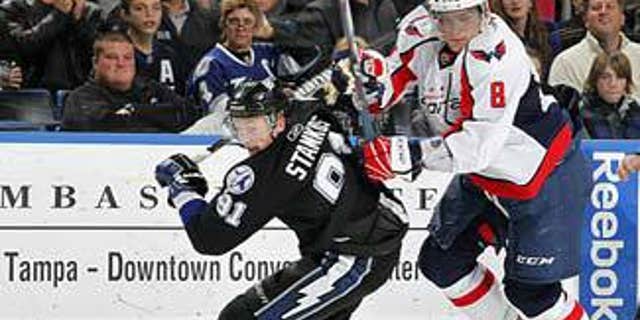 ARLINGTON, Va. -- Alex Ovechkin isn't going to get the chance to best his biggest rival in the 2011 Stanley Cup Playoffs, but the guy who may someday soon be 1A is next up in his path.
There may not be a more scintillating individual matchup in the second round than Ovechkin going head-to-head with Steve Stamkos of the Tampa Bay Lightning. They are the two leading goal scorers in the NHL since Stamkos arrived in Florida after being the No. 1 pick in the 2009 Entry Draft, and the division rivals will see each other in the postseason for the first time.
"Yeah, anytime you can get arguably two of the best snipers in the world together, it is a lot of fun to watch," Washington forward Jason Chimera said. "I think it is just good entertainment -- good hockey -- when you can have two guys going against each other like that."
Added defenseman Karl Alzner: "When I was still playing in juniors, every time I'd go on the NHL site I would always check on [the superstars] just to see how those types of players did. I think everyone wants to watch those guys because you never know what is going to happen. [Stamkos] or [Ovechkin] could have four goals in a game -- it could happen any night. I think this is a fun little rivalry to watch."
There will be no potential return of Sidney Crosby in this postseason because Stamkos' club knocked the Pittsburgh Penguins out in the first round by winning the final three games after falling behind 3-1 in their series. Had the Penguins won Game 7, there would have been another Washington-Pittsburgh postseason battle and speculation would have continued about whether Crosby would be able to come back from a concussion during the series.
Crosby and Ovechkin teamed up for one of the best playoff showdowns in League history in 2009 as both players took leading roles in an epic seven-game series. It is possible Ovechkin and Stamkos could do the same.
Ovechkin has 138 goals in the past three seasons -- 19 more than any other player. One of the guys next on the list at 119 is Stamkos, whose career got off to a slow start. But after an adjustment period during his rookie season, he has rapidly become one of the top players in the world.
"I think his wrist shot in unbelievable and his slap shot too," Ovechkin said. "He finds the place where pucks probably are going to be and he sees the ice really well. Of course he plays with [Martin] St. Louis too -- he's a hard-working guy and probably one of the best players in the League right now. It is [those] kind of guys we have to look out for."
Had this matchup happened a season ago, the hype would be overwhelming. Stamkos and Crosby finished tied for the League lead with 51 goals and Ovechkin was right behind with 50.
Ovechkin had the worst statistical season of his career, finishing with 32 goals -- 14 fewer than his previous low. Stamkos was rolling towards 60 or maybe even 70 goals this season before a second-half slump left him with 46 for the season -- still second in the NHL but not the sort of transcendent campaign it appeared he was on track for in December.
Stamkos' slump -- and the surge of Anaheim's Corey Perry -- left him out of the MVP discussion that once started and ended with he and Crosby before the latter's concussion. St. Louis was more consistent for the Lightning and ended up as one of the Hart Memorial Trophy finalists along with Perry and Vancouver's Daniel Sedin.
Both Ovechkin and Stamkos could be heating up at the right time, though. Ovechkin had a strong first-round series against the New York Rangers, especially considering the low-scoring nature of the five contests. He finished the series with what Capitals coach Bruce Boudreau called his most complete game, which included a highlight-reel quality goal.
"You feed off that -- when's he scoring goals like that and hitting and playing with that passion that he often does, there is no better leader in the League," Chimera said. "He says a little bit in the dressing room, but he's not a big talker. When he plays, guys certainly follow. When he plays like that you can't help but follow him."
Stamkos struggled at the start of Tampa Bay's opening-round series as he got his first taste of the Stanley Cup Playoffs. He got better as the series progressed, including a two-goal effort in Game 5 to help start the comeback for the Lightning. He's been a streaky scorer at times during his career, but few players can match his production level when he really gets rolling.
"He can really skate. He can hurt you in a lot of ways," Chimera said. "He is one of those guys who can beat you on the rush by going out wide and he's got that quick release. Goalies find it tough because they never know when he's going to release it. When you have the combination of speed and a really good shot, it is a scary combination."
Added Alzner: "We're going to try to take away his ability to shoot and not give him time to shoot. He can put the puck anywhere really fast. He doesn't need a whole lot of opportunity to get set, which is scary. It is tough to play against that -- especially on the power play when he sets up for those one-times. We have to keep an eye on him, and it comes down to blocking shots. We did pretty good in the first round but we're going to have to be even better against him."
Ovechkin has had the upper hand in the rivalry between the two players to this point, but until this season he was playing on the much better team. Still, his 12 goals and 33 points in the 18 meetings between the two teams since Stamkos joined Tampa Bay are impressive.
For Ovechkin, it is a chance to move one step closer to winning a Cup, but also to maybe remind people that he is still hockey's premier goal scorer. For Stamkos, it is an opportunity to prove those people who included him with Ovechkin and Crosby as the best players in the world a few months ago weren't wrong in doing so.
"Anytime you get two superstars together like that, it seems like they work harder against each other. It could be fun to watch," Chimera said. "I can see from Alex's point, though, if we won the series and he got zero goals I don't think he would care. He's one of those guys who doesn't care, if the team has success, and I think Stamkos is a similar way. As long as you win the series and do the little things I don't think it will come down to those two guys, but it would be nice if Alex scored about five goals per game for us. If he scores zero and we win the series we'll all still be happy."