Orth may have edge in quarterback competition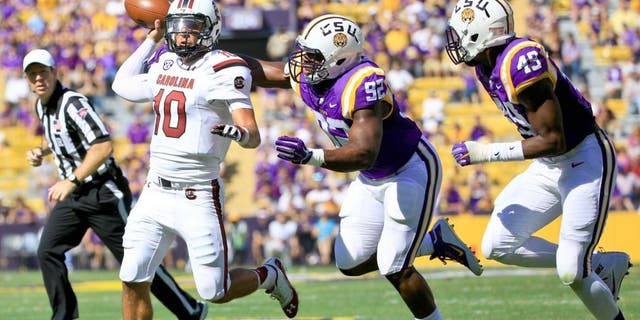 NEWYou can now listen to Fox News articles!
Orth, Mitch, Nunez will all compete for the job. Derick E. Hingle USA TODAY Sports
It's been a never-ending game of musical chairs when it comes to the quarterback position for South Carolina in 2015.
Connor Mitch started the season, before suffering an injury. Perry Orth then commanded the post, before being lifted for uber-talented freshman Lorenzo Nunez. Nunez suffered an injury, and the team pivoted back to Orth. With Mitch set to return shortly, where will interim head coach Shawn Elliott turn next?
As of now, Orth appears to be Elliott's man. The signal-caller went 17-of-28 for 272 yards in the victory over Vanderbilt this past weekend. South Carolina was able to accrue 424 yards of total offense, and the Gamecocks actually had the makings of an effective offense.
"[Orth] was calm, cool, and collected. I'm really proud of him, really proud of him," said Elliott when speaking about his quarterback. "He is becoming the leader of our football team, becoming a good leader of our football team."
Elliott also commended Orth on his ability to take direction well.
"He doesn't bat an eye. He made mistakes like everybody else," said Elliott. "But he comes to the sidelines. He listens and then goes back out. I can respect him. I was very proud of the way he played."