Opening Day: Latinos and Baseball -- By the Numbers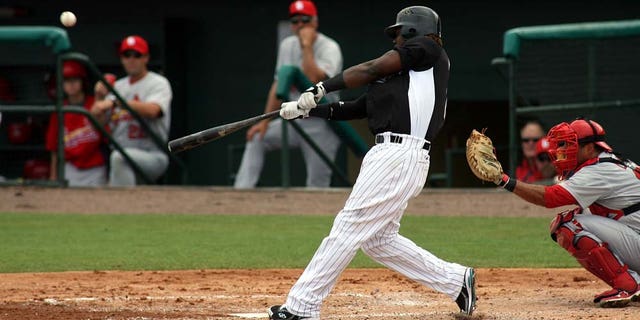 From the hundreds of Latin-born players who saw time in the Show last season to the millions of Hispanic fans that walked through the stadium gates, the impact of Latinos on baseball is clear just by looking at the numbers.
And if baseball is anything, it's a game of stats.
In honor of Opening Day 2011, here's a look at the where the two worlds intersect.
218 – Percentage increase of Latino players in the last 20 years
The number of Latino players in Major League Baseball has surged in the last two decades, jumping from 13 percent in 1990 to 28.3 percent on Opening Day a year ago. No other professional U.S. sports league even comes close. (By comparison, 17 percent of MLS players in 2010 were Latino.) The percentage of Latinos in the minor leagues is even higher.
86 – Number of MLB players from Dominican Republic on Opening Day 2010
More major league players come from the D.R. than any other Latin American country. Ozzie Virgil was the first player to make the big leagues in 1956. Now almost every kid on the island has dreams of being the next Hanley Ramírez, David Ortiz, Pedro Martínez or Tony Fernández. Every big-league club has invested in the country, from scouting to academies for player development. And they've seen a return. Dominican players made up 10 percent of last year's season opener rosters. In all, the Dominican Republic produces more than four times the amount of MLB players per capita than the United States.
62 – Percent of U.S. Hispanics who are MLB fans
Meanwhile, 59 percent of the total population claims to be a baseball fan, according to Scarborough Research. The divide between Hispanic and non-Hispanic fans becomes even wider when discussing level of fandom. Hispanics are 27 percent more likely to be avid baseball fans.
13 – Number of Latinos inducted into Cooperstown
With the steady increase of Latino talent, there's no question that number should rise as more players become eligible. However, considering the storied history of Latinos in America's pastime – one significant enough for Cooperstown to create a permanent "¡Viva Baseball!" exhibit – the fact that Latinos represent less than 5 percent of the Hall of Fame's 295 members certainly seems incredibly low.
2 – Number of Latino player jerseys among MLB's top 20 sellers
Latinos make up nearly 30 percent of the players on MLB's rosters, but Albert Pujols (No. 6) and Alex Rodríguez (No. 9) are the only Latinos who turned up on the list of the league's most popular jerseys released last week. The subject generated discussion on the Web as to whether race played a role. But 2010 marked the first year MLB made the list public, so the sample isn't broad enough to draw any true conclusions.
1 – Number of Latino owners in MLB
Los Angeles Angels of Anaheim owner Arte Moreno remains the league's loan Hispanic owner, further proving there's plenty of room for growth. Latinos are still dramatically under-represented in executive-level positions and as owners. No team presidents or CEOs are Hispanic, and only 7 percent of vice presidents were in 2010. However, MLB ranks ahead of its peers.
.01 – Chance the Astros, Pirates, Royals and Blue Jays have of making the playoffs in 2011 (according to PredictionMachine.com)
Every team is still in the hunt on Opening Day. The odds may be stacked against some teams, but like the rise of Latinos in baseball – players who overcame far greater odds to make it to the big leagues – anything is possible.
Check out our previews of the American League and the National League. Also, players in the Junior Circuit and Senior Circuit who will be key to their teams.
Maria Burns Ortiz is a freelance sports journalist, chair of the National Association of Hispanic Journalists' Sports Task Force, and a regular contributor to Fox News Latino. Follow her on Twitter: @BurnsOrtiz
Follow us on twitter.com/foxnewslatino
Like us at facebook.com/foxnewslatino