Oklahoma State DE Emmanuel Ogbah declares for NFL Draft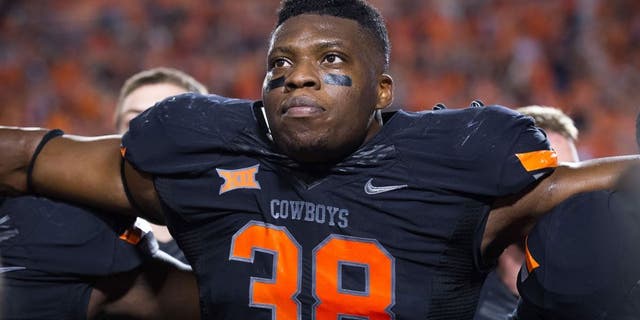 Oklahoma State defensive end Emmanuel Ogbah announced via Twitter on Wednesday that he has declared early for the NFL Draft.
The AP's Big 12 Defensive Player of the Year led the conference in sacks and tackles for loss and set a school record with 19 quarterback hurries while helping the Cowboys reach the Sugar Bowl. The 6-foot-4, 275-pound junior finished his career with 28 sacks. In his best game this season, he scored a touchdown, forced two fumbles, recovered a fumble and had a sack, a tackle for loss and a quarterback hurry in an overtime win at West Virginia.
Ogbah thanked Oklahoma State's coaching staff in his announcement.
"I am very humbled to be in the position I'm in today and none of it would have been possible without your guidance and leadership," he said.
Oklahoma State coach Mike Gundy said during the season he expects Ogbah to excel on the next level.
"Someday, whenever that may be, this year or next year, somebody's going to get a big-time player," Gundy said. "They're going to be glad they have him on the roster."
The decision wasn't much of a surprise -- Ogbah participated in the Senior Day ceremony before the home finale against Oklahoma. The Nigerian-born star said he is on track to earn his degree in May.
"Oklahoma State will always be my home and I promise to represent our university with respect, class, character and dignity," he said.