Oklahoma State can learn something from 'The Big House Blunder'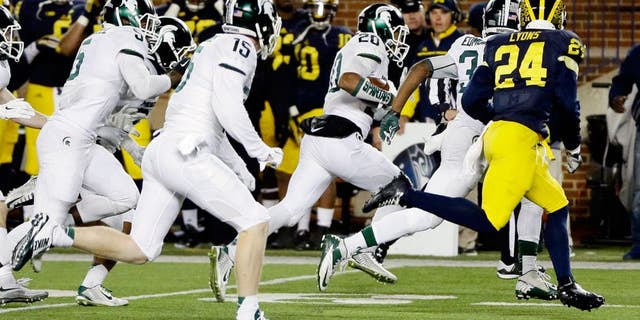 NEWYou can now listen to Fox News articles!
Michigan State defensive back Jalen Watts-Jackson (20) runs towards the end zone after recovering a fumbled snap on a punt in the closing seconds of the second half of an NCAA college football game, Saturday, Oct. 17, 2015, in Ann Arbor, Mich. Watts-Jackson lumbered 38 yards for a touchdown on the final play of the game, giving No. 7 Michigan State a shocking 27-23 win over No. 12 Michigan(AP Photo/Carlos Osorio) AP Photo
It was the play that shook the nation. Michigan was leading 23-21 with just a few seconds remaining, and all they needed to do was punt the ball away to secure a victory.
If only that was how it turned out.
As you've probably heard by know, Michigan bobbled the snap and Michigan Stare recovered the fumble for a game-winning touchdown.
So can other programs, like Oklahoma State, use that incident as a teaching moment? Absolutely.
"As a coach, you would want to tell your punter that went out in that situation, 'If something does happen, just fall on the ball,'" Gundy said. "You don't think about that at that time, but if you just fall on the ball then it's either a 57-yard field goal or a Hail Mary pass."
The Cowboys have benefitted from a crucial special teams blunder already this season, as they won the Texas game in such fashion.
(h/t The Daily Oklahoman)