Ohio State holds on to top spot, Michigan St. falls in AP Top 25 poll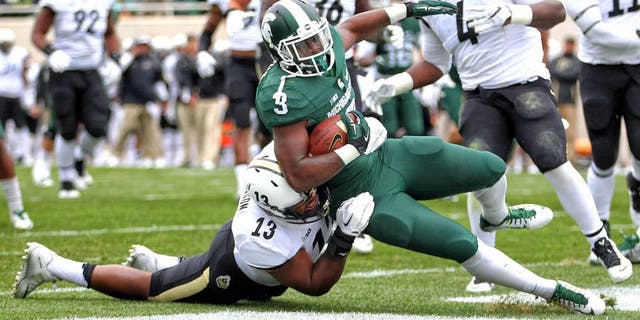 NEWYou can now listen to Fox News articles!
Ohio State remained No. 1 in The Associated Press college football Top 25 and tied a poll record on Sunday, despite lagging support from the voters.
Meanwhile, No. 2 TCU and No. 3 Baylor edged forward, No. 4 Michigan State slipped and No. 5 Utah and No. 6 Clemson took big jumps.
After four top-10 teams lost on Saturday, the rankings were rattled and five teams received first-place votes. The Buckeyes received 38 first-place votes, their fewest this season after beginning as the first unanimous preseason No. 1. TCU has five first-place votes, Baylor received 10, Utah has seven and No. 9 Texas A&M has one.
Ohio State was the only team in the top 16 to have the same ranking this week as last.
The Buckeyes held off Indiana 34-27 on Saturday and have now been top-ranked 101 times, matching Oklahoma for the most in the 79-year history of the media poll.
POLL POINTS
One more week at No. 1 will give Ohio State a record all to itself. The most times being on top of the AP poll.
101 -- Oklahoma
101 -- Ohio State
98 -- Notre Dame
91 -- Southern California
73 -- Alabama
72 -- Florida State
70 -- Nebraska
68 -- Miami (Fla.)
45 -- Texas
41 -- Florida
MOVING UP
Utah and Clemson were among six teams that moved up at least five spots in this week's rankings. The Tigers gained six spots after squeaking past Notre Dame, 24-22 at home. The Utes moved up five spots in an off week, taking advantage of all the losses by teams in front of them.
-- No. 8 Alabama, No. 9 Texas A&M and No. 10 Oklahoma all gained five spots after impressive victories.
-- No. 11 Florida made the biggest leap forward, 14 spots after crushing Mississippi.
The Gators move ties for the third largest in the history of the poll:
17 spots -- No. 19 Michigan State to No. 2, Oct. 2, 1950
16 -- NR Arizona to No. 10, Oct. 5, 2014 (Top 25)
16 -- No. 25 TCU to No. 9, Oct. 5, 2014
14 -- No. 19 Purdue to No. 5, Oct. 4, 1954
14 -- No. 24 Kansas to No. 10, Oct. 8, 1995
FALLING DOWN
Four teams dropped at least nine spots:
9 -- Notre Dame from six to 15.
11 -- Ole Miss from three to 14.
11 -- Georgia from eight to 19.
13 -- UCLA from seven to 20.
CONFERENCE CALL
The Southeastern Conference leads all leagues with six ranked teams, but LSU at No. 7 is the highest ranked. The last time the highest-ranked SEC team was that low was Oct. 10, 2010, when Auburn was No. 7.
After two weeks of the Big Ten having the top two teams in the nation, Michigan State dropped two spots to No. 4.
Rankings by conference:
SEC -- 6 teams
Pac 12 -- 5
Big Ten -- 5
Big 12 -- 4
ACC -- 2
MAC -- 1
Mountain West -- 1
Independent -- 1
WELCOME BACK
-- No. 22 Iowa is ranked for the first time since November 2010.
-- No. 24 Toledo is ranked for the first time since November 2012.
-- No. 25 Boise State is back after falling out last month.
BUH-BYE
Mississippi State, Wisconsin and West Virginia dropped out of the rankings after losses.
RANKED VS. RANKED
This week's big games:
-- No. 23 California at No. 5 Utah. The last remaining undefeated Pac-12 teams. Just like we all expected.
-- No. 13 Northwestern at No. 18 Michigan. Yep, just like we expected.