Oakland A's pitcher Sean Manaea tosses no-hitter vs. Boston Red Sox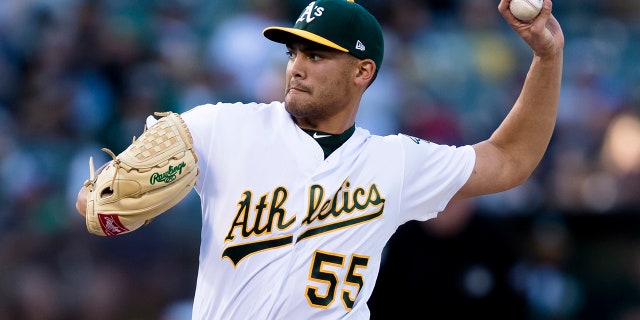 Oakland Athletics left-handed pitcher Sean Manaea pitched a no-hitter Saturday night – and became the first pitcher in 25 years to achieve the feat against the Boston Red Sox.
An overturned umpire's call helped preserve the pitching gem in Oakland's 3-0 win over the Sox, who have been baseball's hottest team this season.
Manaea struck out 10, walked two and threw 108 pitches.
It was Oakland's first no-no since Dallas Braden tossed a perfect game against the Tampa Bay Rays in 2010.
The last no-hitter against Boston was by Seattle's Chris Bosio in 1993.
Boston looked as if it had a hit with two outs in the sixth at the Oakland Coliseum. Andrew Benintendi hit a grounder to the right side, slid around first baseman Matt Olson and was ruled safe.
After the umpires conferred, Benintendi was ruled out for going wide of the baseline.
Sandy Leon reached on an error in the Red Sox fifth when A's shortstop Marcus Semien dropped a popup.
Manaea (3-2) had been battered by Boston in three previous starts. But the 26-year-old cooled off a hard-hitting Red Sox team that had won eight in a row and 17 of 18.
This was the first no-hitter in the majors since Miami's Edinson Volquez pitched the only one of the 2017 season against Arizona on June 3.
The no-hitter was the 12th all-time by an Athletics pitcher and the seventh since the club moved to Oakland 50 years ago, the East Bay Times reported.
The Associated Press contributed to this story.