Notre Dame WR Fuller says he will be back for senior season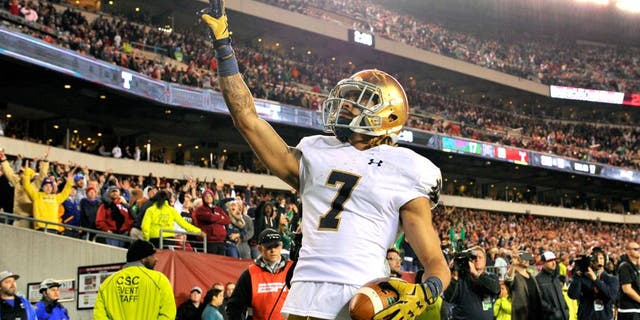 SOUTH BEND, Ind. -- Notre Dame wide receiver Will Fuller says he plans to return to school for his senior season.
The 6-foot, 184-pound junior said after practice Wednesday he plans to return so he can earn his psychology degree. He had previously said he would decide after the season whether to leave early for the NFL.
When asked if the game against Wake Forest (3-6) could be his last home game for the sixth-ranked Fighting Irish (8-1, 4th CFP) Fuller said, "No. I need to graduate. That's what I came here for."
Fuller ranks fourth in the nation with 12 receiving touchdowns, and moved into second place in school history last week with 28 career touchdown catches His 900 receiving yards rank 14th and his 100 yards receiving a game ranks 13th.