No. 9 Georgia loses star tailback Todd Gurley to season-ending ACL injury in left knee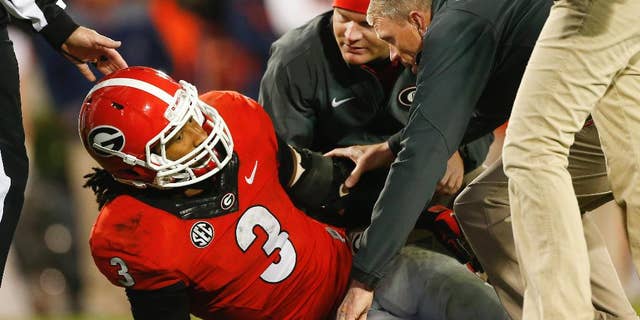 Georgia tailback Todd Gurley's season has ended with a torn anterior cruciate ligament in his left knee.
The school announced the injury Sunday.
Gurley ran for 138 yards and a touchdown in Georgia's 34-7 win over then-No. 9 Auburn on Saturday night. The junior was injured with just over 5 minutes remaining on a 6-yard run.
Gurley was considered a leading Heisman Trophy candidate before receiving a four-game NCAA suspension for taking $3,000 for autographed memorabilia and other items over two years. Saturday's game was his first back.
The loss of Gurley leaves Nick Chubb as No. 9 Georgia's top running back for the rest of the season. The Bulldogs play Charleston Southern this week before closing its regular season against Georgia Tech.