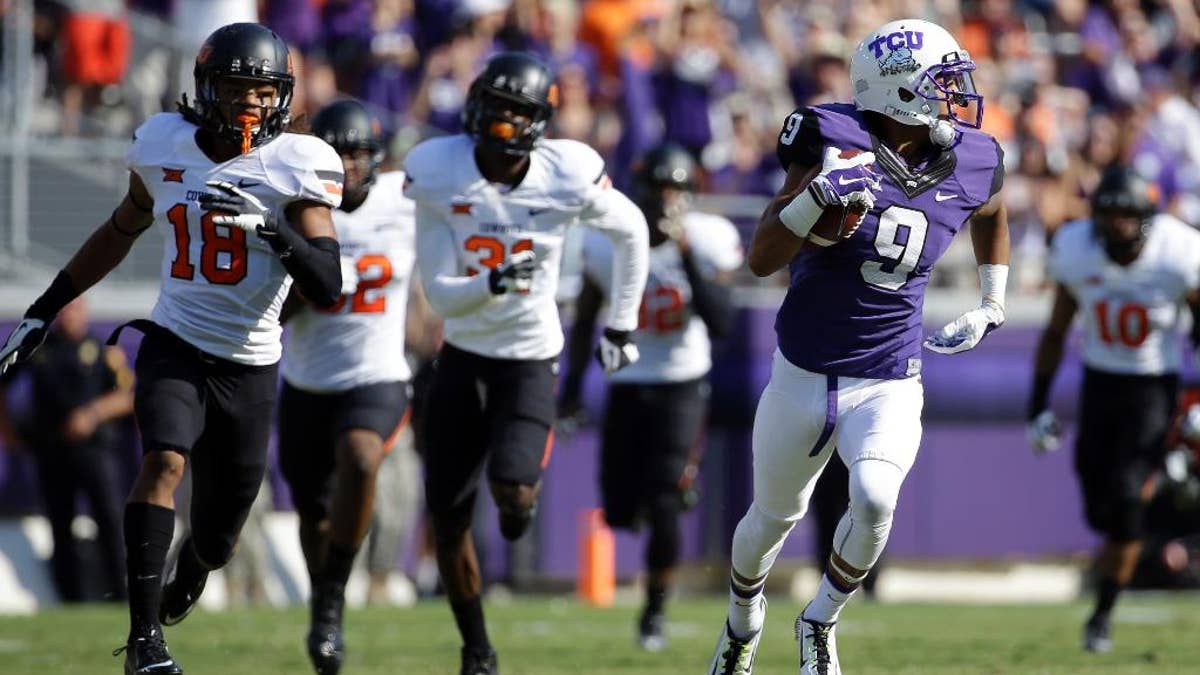 FORT WORTH, Texas – TCU coach Gary Patterson isn't afraid to say that the renovated offense he ordered after last season didn't look great in spring practice.
Yet, he's not sure where to start on how the 10th-ranked Horned Frogs turned into the nation's most improved offense in points scored and yards.
"People play better, your quarterback plays better," Patterson said this week. "Honestly, I think the guys have done a great job of calling it game-plan-wise. And there's a belief. I've always told them, as a defensive person, you're not just a coordinator, you're also a marketing major. You've got to make people believe what you do is the best that's out there."
Quarterback Trevone Boykin and his crew are playing like they're sold on what offensive coordinators Doug Meacham and Sonny Cumbie brought in after Patterson decided it was time to try to keep up with the fast-paced Big 12 teams.
Coming off the gut punch of a loss to Baylor — blowing a 21-point lead in the last 11 minutes and losing on a last-play field goal — the Frogs made school history last week with having the first 400-yard passer, 200-yard receiver and 100-yard rusher in the same game, a 42-9 rout of then-No. 15 Oklahoma State.
Boykin threw for 410 yards, while Josh Doctson had touchdowns of 77 and 84 yards among his 225 yards receiving and B.J. Catalon finished with 102 on the ground and a pair of scores.
In other words, TCU (5-1, 2-1 Big 12) now looks a lot like Saturday's opponent, Texas Tech (3-4, 1-3), did when Cumbie was quarterback in 2004 and the Red Raiders beat the Frogs 70-35. That's the most points Patterson allowed in his 14 years as coach.
"It's exciting to see the guys scoring and having fun because last year I feel like we weren't having this much fun on the offensive side," said safety Sam Carter, who was a high school quarterback in the Houston area.
For years, the Frogs measured their national prowess in the defensive standings — only Alabama has more No. 1 finishes since 1937 with six, and all five of TCU's have been since 2000 under Patterson. But now it's the offense's turn.
Boykin leads the Big 12 and is fourth nationally in total offense at 370 yards per game. He's the first quarterback under Patterson to throw for at least 250 yards in six consecutive games, and he ranks No. 5 nationally in scoring and seventh in total yards.
"We were pretty excited about this offense just going through spring and everything," center Joey Hunt said. "... When we were doing good against our defense, we knew we were doing pretty good because our defense is always so good."
That defense is living with the fact that it gave up 782 total yards to Baylor — including 510 passing to Bryce Petty. And the proud unit always has to be ready to hop back on the field. TCU scored three touchdowns in a span of four offensive plays against the Cowboys.
"I tell anyone," Carter said, "as long as they're scoring, I don't care about going back out there."
It's easy to forget that Boykin wasn't established as the starter when preseason workouts started in August, as Matt Joeckel came aboard looking for a place to play one more season after graduating from Texas A&M.
But Joeckel has played sparingly, mostly getting mop-up duty in blowouts, while Boykin is learning how to be more of a passer in the new spread offense. He bounced between receiver and quarterback when Casey Pachall was the starter, and was thrown into the leading role as a freshman two years ago when Pachall was arrested on a drunken-driving charge.
"I'm excited for him," Patterson said of Boykin. "For as much criticism as he's taken over his younger years here — only a junior, seems like he's been here forever. The way coach Cumbie and coach Meacham have handled him, the way it's turned out, has been awesome."
And a lot better than it looked in the spring.
___
Follow Schuyler Dixon on Twitter at https://twitter.com/apschuyler