NNS: Kyle Busch Rolls Again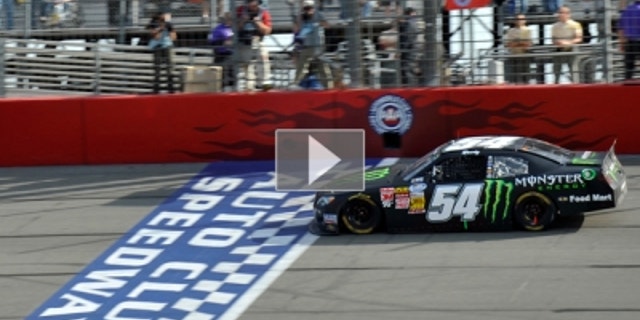 Kyle Busch led a ton of laps and won a race?
This must be the Nationwide Series.
Since rejoining Joe Gibbs Racing's Nationwide program, Busch has been lights out on NASCAR's No. 2 circuit. Saturday was no exception at Auto Club Speedway, where JGR practically owns the racing surface.
Busch earned JGR its ninth straight Nationwide win at ACS in Saturday's Royal Purple 300, the fifth race of the season. Although a part-time Nationwide driver, Busch already has three series wins this year and has led more total laps than he led all last season.
Busch trailed Brad Keselowski and Sam Hornish Jr. as the field made a restart with 35 laps to go, but Busch swept into first place 10 laps later to regain the spot he had held much of the afternoon. He wasn't challenged the rest of the way.
Busch held a healthy lead over the second-place Hornish in the afternoon's final miles. Hornish tried valiantly to catch Busch. In fact, he tried too hard, smacking the outside wall with two laps to go but hanging on for second.
"We made a good adjustment on the last stop," Busch said. "I was a little too loose when I got up top but kept working at it. The car was great. It was working really good on the high side, and I could get a run at Sam on the straightaways."
Hornish, building a strong point foundation in the early part of the season, kept the series lead.
"I had to drive it that close to being on the edge to be able to catch him (Busch) the little bit that I did," Hornish said of his late-race meeting with the wall. "It was almost like he was just keeping the gap pretty much the same."
Regan Smith took third place and moved into second in points, 28 behind Hornish. Parker Kligerman was fourth and Austin Dillon fifth.
Keselowski didn't pit on the last round of stops, gambling that there would be another caution for refueling. That didn't happen, and he fell out of the lead (at the restart) as he slowed to save fuel over the closing laps.
Elliott Sadler led early in the race but fell off the pace at the front with ignition problems. He rallied to finish seventh, one spot behind Kyle Larson.
Busch led 92 laps, easily more than any other driver. Hornish was second on that list with 28.
PHOTOS: NNS Fontana Race Galleries
Mike Hembree is NASCAR Editor for SPEED.com and has been covering motorsports for 31 years. He is a six-time winner of the National Motorsports Press Association Writer of the Year Award.